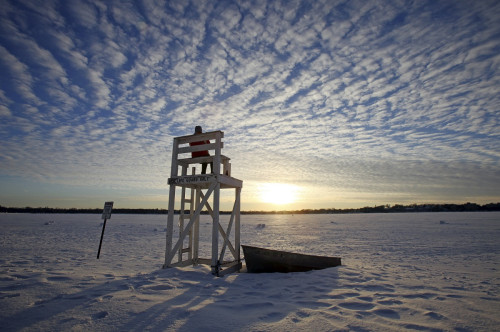 The Polar Vortex, which has resulted in a record breaking cold snap, is estimated to hit the US economy with $5bn worth of costs as business and travel plans are being put on ice.
According to Planalytics data, the cold snap, which saw temperatures plunge below zero in all 50 states, could carve off the equivalent of 0.2% a year off US GDP in the first quarter.
"A similar situation in 2010 lasted a week, with back-to-back storms with snow and ice," said Evan Gold, senior vice president of Planalytics.
"We calculated that cost $25bn (£15bn, €18bn) to $30bn. But that one lingered. This one is just very cold, so it should be a two- or three-day event."
Temperatures in the eastern states of the US have begun to rise and the Arctic winds are dying down as the Polar Vortex moves across the Atlantic.
Vast areas of Canada and the US have been subjected to sub-zero conditions, leaving at least 21 people dead and causing widespread disruptions.
Around 187 million people in the Eastern two-thirds of the country faced extremely low temperatures in total.
Meanwhile, 2,380 US flights were cancelled and 2,912 delayed this week,
Subsequently, businesses will feel the impact of loss of trade and around 200 million people could face "bill shock" for heating during the cold snap as they stay at home.