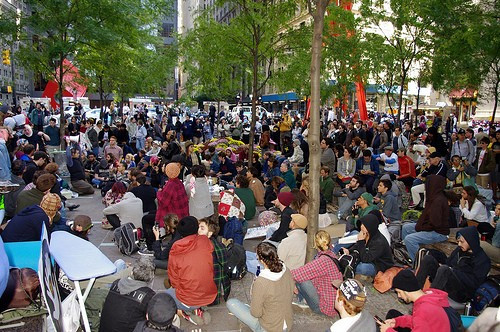 New York police have issued a fresh statement denying the growing number of police brutality allegations emerging from protesters involved in the Occupy Wall Street campaign.
Speaking to the New York Times, a police spokesman attacked the three new videos released by Anonymous via its AnonOps website. The videos in question were released Sunday and showed a slew of alleged incidents of police brutality, inflicted on various Occupy Wall Street protesters.
In their comments to the New York Times, the spokesman interviewed suggested the footage used in the videos had been intentionally edited and manipulated to further Anonymous' anti-law-enforcement agenda.
A video showing a policeman using pepper spray on a number of female protesters was specifically mentioned by one of the officers interviewed. "Pepper spray was used once... after individuals confronted officers and tried to prevent them from deploying a mesh barrier - something that was edited out or otherwise not captured in the video," commented the Police Department's chief spokesman, Paul J. Browne.
The New York Times went on to allege that it had spoken to one of the women shown on the video, identifying her as Chelsea Elliott. In her interview Elliott challenged the police spokesman's report, alleging that she had not attempted to "prevent" the officer deploying the mesh barricade and had simply attempted to start a conversation with one of the officers on scene.
"I'm just trying to converse with them in a civilized manner, and tell them I'm a civilized human being," commented Elliot to the New York Times. "A cop in a white shirt - I think he's a superior officer - just comes along and does these quick little spritzes of pepper spray in my and these three other girls' eyes," she added. The officer's identity was not provided by the police.
The new reports follow a series of arrests made during the ongoing Occupy Wall Street protest. Despite the high-profile nature of the protest, exact numbers remain vague, with conflicting reports suggesting around 80 protesters have thus far been detained by the police.
Previous reports from Anonymous had indicated that the police had increased their presence at the protest arresting several members of the protester media team covering the event. Most recently the collective released what it claims is the identity and phone number of the police officer responsible for the pepper spray attack.
The hacker wing of Anonymous has since issued a statement indicating it had a number of revenge attacks planned for the polices' treatment of the protesters.
The live video feed chronicling the protest can be viewed here.