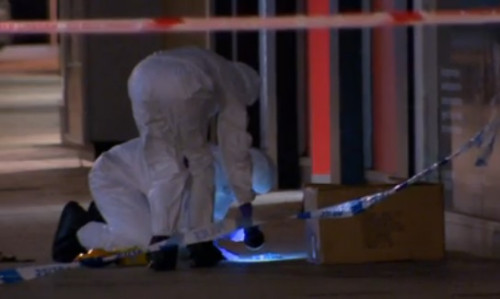 A suspected firebomber became a human torch in front of shocked shoppers in Belfast city centre.
The incident unfolded in the city's busy Cornmarket, when a man walked in to a golf shop at around 6.40pm and then burst in to flames.
The man, said to be in his 40s then fled from the store and barged his way past shoppers while on fire, dropping an incendiary device as he went. It is believed the bomber's device went off by mistake.
A police robot and a police dog took part in the investigation by the Police Service of Northern Ireland (PSNI) in the wake of the attack. Police were still hunting the suspected fire bomber the next day.
Chief superintendent Alan McCrum said: "He appeared to move something underneath his jacket and seconds later a large flame ignited inside his coat and engulfed his head and shoulders as he attempted to put the flames out with his hands."
Nick Pierpoint, owner of Golf Madness – which was targeted by the suspected firebomber, told BBC: "This guy came and unbelievably just went in to flames. He just run out of shop and it turns out there was an incendiary device he had been hiding underneath his coat, which had gone off."
The attempted attack was condemned as "reprehensible" by Andrew Irvine, Belfast city centre manager.
"The reality is for anybody who would want to come in and do this, it's not just a question of avoiding police eyes, they need to avoid the eyes of every single person working in this city, because people are now being vigilant," said Irvine.