The One Love Manchester concert was filled with emotion as some of the biggest music stars on the planet, from Katy Perry to Justin Bieber and of course its host Ariana Grande, honoured the victims of the Manchester attack.
One of the most heart-warming clips from the three-hour concert – which was held at the Old Trafford in front of a 50,000 strong crowd – has taken the internet by storm.
A policeman linking hands with little girls and dancing to Bieber's performance of 'Sorry' has become one of the images most will remember from the powerful evening of music and togetherness.
Twitter uses were quick to commend the police officer, leading many to praise the efforts of the emergency services during the recent terror attacks.
One user tweeted: "What a lovely cutaway... A policeman dancing with some young Ariana Grande fans in Manchester. #OneLoveManchester". Another wrote "Policeman dressed in uniform does 'ring a roses' with kids at the @ArianaGrande concert. that's what it's all about."
A third added: "I demand that policeman who was dancing gets a medal & @ArianaGrande gets like a damehood or something for being awesome".
The emotional concert, which included moving performances from Robbie Williams, Liam Gallagher, Niall Horan and Take That among others, raised £2m which will go towards the We Love Manchester Emergency Fund.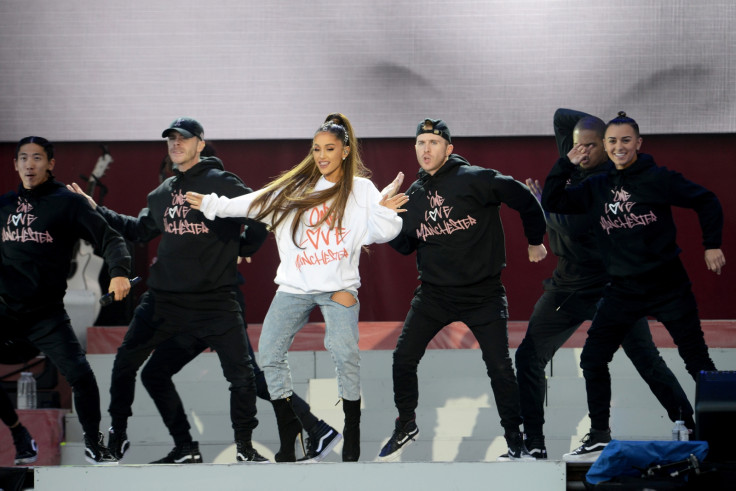 Grande – who finished the show by singing Somewhere Over the Rainbow before breaking down in tears – claimed she was inspired to change her set list after the mother of teenage victim Olivia Campbell, 15, said her daughter would have wanted "to hear the hits."
She said: "I had the pleasure of meeting Olivia's mummy a few days ago and I started to cry and gave her a big hug and she said 'stop crying, because Olivia wouldn't have wanted you to cry.
"And then she told me Olivia would have wanted to hear the hits. We had a different show planned and we had a rehearsal yesterday and we changed everything."