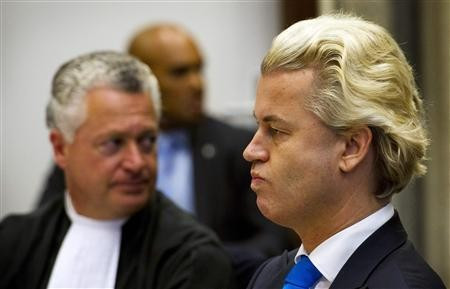 The trial of Dutch MP Geert Wilders has resumed in Amsterdam. Mr Wilders, who leads the Party for Freedom (PVV) stands accused of inciting hatred against Muslims.
In October it was decided that the trial should be brought to a halt, however a judicial decision in March ruled that it should now go ahead.
The trial was halted when Mr Wilders' defence accused Judge Tom Schalken of acting in a prejudicial way against Mr Wilders by discussing the trial with Hans Jansen, an expert on Arab affairs, before the trial had even begun.
The trial is currently hearing testimony from Mr Jansen and Mr Schalken, as well as from another Arab expert, Bertus Hendriks.
Mr Wilders' PVV currently holds around one sixth of the seats in the Dutch parliament, making it the third largest party. While it is not part of the government, the party's support allows the current coalition in the Netherlands to govern.
Mr Wilders has in the past said that he does not hate Muslims but the religion of Islam, which he describes as "fascist". He has also described the Islam's founder, Mohammad, as a "barbarian and a paedophile".
The Koran, Mr Wilders argues, should be banned as it promotes hatred and violence in the same way as Mein Kampf, which is banned in the Netherlands. He has also said that the majority Muslims living peaceably in the Netherlands should be free to do so but that more immigration from Muslim countries should be stopped.
He has described the trial as "political" and an attack on free speech and legitimate debate about Islam.