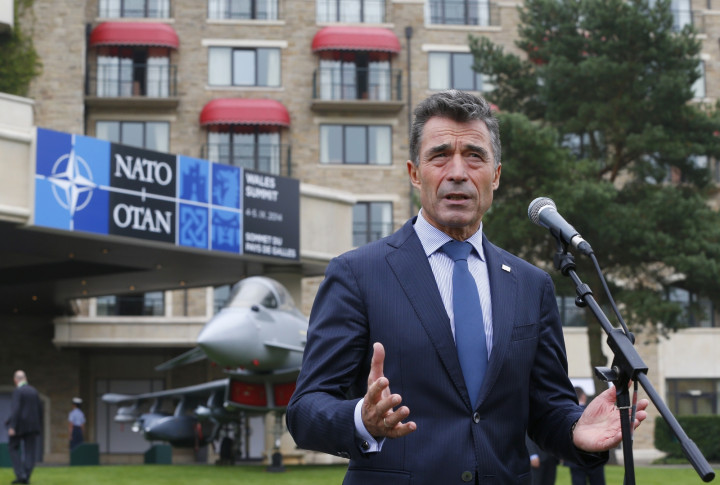 This week, the day after he handed over the reins of Nato to former Norwegian Prime Minister Jens Stoltenberg, outgoing Secretary General Anders Fogh Rasmussen announced that he has started his own consultancy.
Rasmussen Global will "help clients navigate an increasingly complex world where people, businesses and nations are interconnected and interdependent like never before".
To translate, he will advise governments, corporations and multilateral organisations on how to adapt to a challenging global security and economic environment.
To further cut through the doublespeak: Rasmussen plans to use the contacts, inside knowledge and expertise he built up in five years at the head of the world's largest and most powerful security organisation to make a shedload of cash.
He told Reuters: "I haven't started any concrete activity until today because I didn't want the slightest conflict of interest," he told Reuters in a telephone interview. "I have built a huge amount of experience during all these years and I think it is also in the public interest that I use that experience for the public good."
We shouldn't really be surprised, the revolving door between politics and commerce is well-oiled by now, and just as well-documented. But the timing of Rasmussen's declaration is, journalistically, fortuitous – for more than one reason.
It comes in the week of the European Parliamentary Hearings, during which preferred candidates for the new Commissioner positions in the European Commission are grilled on their past dealings and future intentions.
Those terrier-like researchers at the Corporate Europe Observatory (CEO), an organisation dedicated to "exposing the power of corporate lobbying in the EU", have helpfully compiled a guide to the murkier details of candidates' background.
To name but a couple: Jonathan Hopkin Hill (Lord Hill), the UK's candidate elect for the position of Commissioner for Financial Stability, Financial Services and Capital Markets Union, is a founding director of PR and lobbying firm Quiller Consultants, which represents outsourcing giant Capita and right-wing think-tank MigrationWatch.
To quote CEO's website: "According to yesterday's House of Lords' register of interests (link is external), Hill remains a shareholder in Huntsworth plc, the international public relations business, which bought Quiller in 2006 for £5m. Huntsworth also owns the major Brussels lobbying outfit Grayling. When asked to declare how much his shares were worth, Hill's spokesperson apparently declined to answer, although the media has alleged that they are worth "at least £50,000". Interestingly, Hill does not refer to his Huntsworth shareholding in the list of ministerial interests."
Then there's Spaniard Miguel Arias Cañete, the preferred candidate for the role of EU Commissioner on Climate Action and Energy, who is the ex-president of two Spanish oil companies.
Even after he offloaded shares he held in both Petrolífera Dúcar SL and Petrologis Canaris in September, the clamour to keep an experienced oil veteran from Europe's most powerful climate change directorship keeps growing.
Magda Stoczkiewicz of Friends of the Earth said: "We are deeply concerned about Mr Arias Cañete's nomination. Last week Mr Cañete sold his shares and said he wanted to avoid even the slightest notion of potential conflict of interest, but with his family's continued involvement in the same companies, the notion remains far more than slight."
Speaking to IBTimes UK, Olivier Hoedeman, Research and Campaign Co-ordinator at CEO, bemoans the frequency of such moves and the lack of action the EU is willing to take to stop it.
"It's getting more common for politicians and high level decision makers to move into this kind of lobby job, or board positions – jobs that involve lobbying and conflicts of interest. We've seen that happen with the last European Commission changeover in 2010-11. Six of 13 commissioners that left. That's a very big share of departing commissioners moving into private sector jobs.
"We've seen it on the national level: Germany, Gerhard Schroeder working for Gazprom. Peter Mandelson, Tony Blair... high profile cases. In the US it's been a common for a long time but it's been spreading to Europe. It shows there's a need for some clear and stricter rules to prevent it."
Ombudsman Speaks
Rasmussen's move also comes just a fortnight after the European Ombudsman Emily O'Reilly recommended that there should be tighter restrictions on European politicians, leaders and officials leaving their jobs to join the private sector.
O'Reilly said in a written statement: "Civil servants have a legitimate right to take up job offers when they leave the public service. However, in order to maintain citizens' trust in the EU civil service, the EU institutions must strengthen and make more transparent their systems of review to make sure that such moves do not give rise to conflicts of interest.
"International experience has shown us that this "revolving doors" phenomenon can at times potentially have a corrupting influence on senior staff, which damages public trust immensely. It is very important that we ensure that such a situation does not develop in Brussels. I will step up my supervisory powers accordingly."
Surely, though, the revolving door clampdown must work both ways? In what universe is it fair and transparent for a former oil executive who, until less than a month ago, held shares in two oil companies to wield power over Europe's efforts to thwart climate change?
This is not mock-horror at the well-established link between business and politics. If anything, most people are resigned to the shocking proximity between the two in Brussels.
Earlier this week, figures compiled by Lobby Facts, a coalition of the NGOs Friends of the Earth Europe, the Corporate Europe Observatory (again), and LobbyControl revealed the extent to which lobbyists are used in Brussels. IBTimes UK reported:
Tobacco giant Philip Morris International is the company that spent the most money lobbying EU politicians in 2013.

The Switzerland-domiciled but US-based company spent €5.25m (£4.08m, $6.61m) on lobbying over the course of the year during which the European Parliament progressed towards the Tobacco Products Directive – legislation designed to cut the number of smokers in the union by 2.4 million.

That Philip Morris boosted its lobbying budget from €1.25m to more than €5m over the year shows the opposition the bill faced among the tobacco industry, which accused European policymakers of adopting a "nanny state mentality" towards smokers.
But no. Rather this is disgust at the brazenness of those attempting to pull it off, as well as the acquiescence of those supposed to be regulating it.
Ombudsman O'Reilly has been given the powers needed. It's clearly too late for authorities to stop the likes of Tony Blair and Anders Fogh Rasmussen from abusing the very system that made them, but there is still time to ensure that the new EU Commissioners enter with a clean background – and that is exactly what needs to happen.