Popcorn Time Software Taken Offline by Kim Dotcom's Mega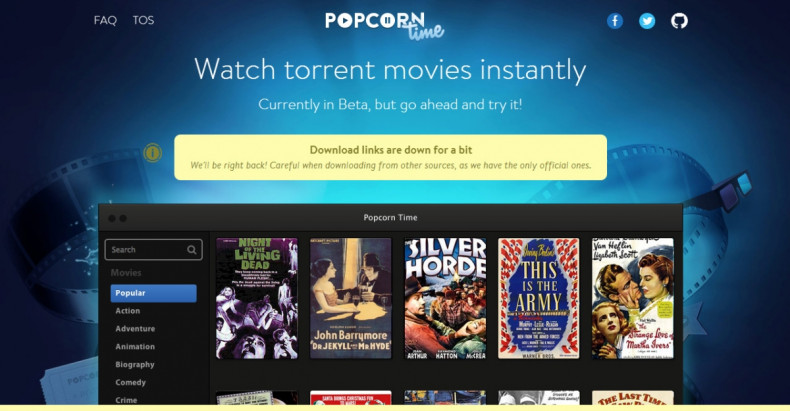 The controversial Netflix-style movie streaming app for pirated films called Popcorn Time is no longer available to download, having been removed from the file-sharing site hosting it.
While the official Popcorn Time website is still online there is no longer an option to download the software needed to stream the pirated movies.
Instead, a message where the download link should be reads: "Download links are down for a bit. We'll be right back! Careful when downloading from other sources, as we have the only official ones."
The software had been hosted as a public download on Kim Dotcom's Mega cloud storage service, but it was deleted earlier in the day. The Popcorn Time website was subsequently updated to remove the link to the download.
A member of the Popcorn Time developer team has confirmed to TorrentFreak that the application installer was not removed by them but was removed by Mega, adding that it could spell the end of the short-lived project.
"We are discussing our next step. This could be the end of Popcorn Time – not the community, its open source – but maybe our goodbye as a team."
Why take it down?
With all the attention Popcorn Time has been attracting in the media in recent days it is no surprise to hear reports that the Motion Picture Association of America (MPAA) could be preparing a lawsuit to take the project down.
Mega founder Kim Dotcom appeared to be a staunch supporter of streaming app, favouriting tweets on the Popcorn Time's official Twitter account and sharing an article link about the app with the MPAA Twitter account yesterday:
However it appears that a copyright infringement notice sent to Mega has prompted Dotcom, who is already controversial enough, to remove the file. After sharing Torrent Freak's article on his Twitter, Dotcom has broken his silence, tweeting that Mega and Megaupload has always respected "takedown notices":
Controversy
The German-Finnish internet entrepreneur, now living in New Zealand, is the founder of Megaupload, a file-hosting website that hosted copyrighted content, supported by ads that earned him millions.
Following a raid by the FBI and New Zealand's national security agency GCSB, Megaupload was shut down and Dotcom arrested. He is currently out on bail with all his assets frozen, fighting extradition to the United States to stand trial for online piracy and conspiring to commit copyright infringement.
In the meantime, Dotcom keeps busy by suing GCSB for allegedly illegally raiding his mansion, as well as maintaining his new product, Mega, and releasing his first music album.
Mega has been allowed to stay live, presumably because the authorities have no proof that anyone is hosting illegal content.
Dotcom has posted on Twitter defending Mega, stating that it is not Mega's job to police the internet and he has no idea what files Mega is hosting since they are encrypted:
While the application installer itself is not illegal, it could be argued that it aids users in accessing pirated content.