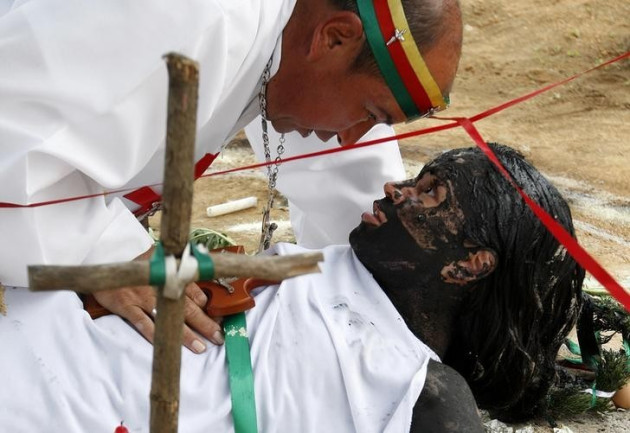 Retiring Pope Benedict XVI has won praise from the Catholic church's leading exorcist priest for helping alleged victims of Satan.
Father Gabriel Amorth, 86, who has carried out more than 70,000 exorcisms in a career spanning 25 years after being appointed by the late Pope John Paul II, told Sky News: "Pope Benedict has done many things for exorcists.
"He has allowed them within the catechism of the Catholic Church, consenting them to administer the sacrament of exorcism to people suffering from demonic possession.
"But not only to them, also those who suffer other evil disorders such as being plagued by devils and diabolic infestation."
Father Amorth was speaking in a recording of a show on Pope Benedict's eight-year term of office, which will be screened on Italian TV, called: Joseph Ratzinger And The Devil. The History Of A Pontificate And The Battle Against Evil.
The priest is president of the International Association of Exorcists and it is not the first time that he has linked Pope Benedict to exorcism.
Last year in his book The Last Exorcist - My Fight Against Satan, Father Amorth described how the presence of the Pope helped cure two "possessed" men who were in St Peter's Square in May 2009 as the Popemobile drove past them.
As the Pope approached them, the men, named only as Marco and Giovanni, began to act in a strange fashion, Father Amorth wrote.
As soon as the Pope stepped down from his vehicle the two men threw themselves to the floor.
''They banged their heads on the ground. They were trembling, slobbering, working themselves into a frenzy.
''The Pope watched from a distance. He raised an arm and blessed the four of them. For the possessed it was like a furious jolt - a blow to their whole bodies - to the extent that they were thrown three metres backwards."
Father Amorth insisted in the book that it was the presence of the Pope that helped cure the men.
Father Amorth has previously spoken out against Harry Potter and yoga - claiming they both "lead to evil" because of their links with magic and spiritualism.
In 2011 he said the child sex scandals within the Catholic Church were evidence that ''the Devil was at work in the Vatican".
The Twilight Effect
The demand for casting out demons is growing. The number of inquiries is increasing in Norway, according to Paul Bratbak. He says that most people who contact him need psychiatric help. The church has a permanent psychiatrist they consult, and everyone going through an exorcism must be investigated by this psychiatrist in advance.