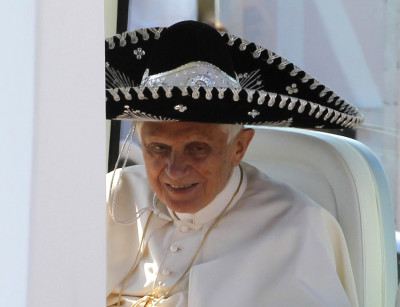 Pope Benedict XVI wore a traditional Mexican sombrero as he waved to fans from his Popemobile prior to preaching a message against the ongoing violence and drug trafficking in the country.
After wearing the traditional wide-brimmed hat while greeting the cheering crowds, the Pope celebrated an open-air mass at the Bicentennial Park in Silao.
At the gathering, the Pope tried to reach out to thousands of children and their parents present in the region telling them that they are each "a gift of God to Mexico and the world".
He urged them to wield their faith against drug violence, poverty and other ills plaguing the nation.
The Associated Press reported that the pope delivered the message to an estimated 350,000 people against the backdrop of the Christ the King monument, one of the most important symbols of Mexican Christianity. The statue recalls a 1920s Roman Catholic uprising against the anti-clerical laws that forbade public worship services such as the one Benedict celebrated.
He urged them to promote peace and justice in their country, where a murderous drug war has led to tens of thousands of deaths. It was the largest event on the first leg of his six-day Latin America tour, which will also take him to Cuba.
"The disciple of Jesus does not respond to evil with evil, but is always an instrument of good instead, a herald of pardon, a bearer of happiness, a servant of unity. I will pray for all of you, so that Mexico may be a place in which everyone can live in serenity and harmony," the Mirror quoted Benedict saying.
Start the slideshow to catch a glimpse of the Pope's visit to Mexico and his traditional Mexican sombrero look: