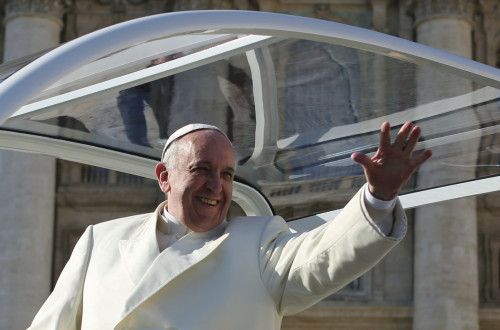 Pope Francis spoke of peace as he met an Argentinian veteran of the Falklands War at the Vatican.
Francis received his countryman Oscar Doria Fernandez, 51, after the general audience in St Peter's Square.
The pontiff blessed two crucifixes and rosaries which Doria said he wants to take to the British and Argentine war cemeteries in the Falklands.
"The Pope called for peace among all peoples of the world, and kindly blessed the crucifixes and rosaries", Doria told Merco Press news agency.
Aged 19, Doria served as forward air controller for the Argentinian Air Force in the 1982 conflict. He was captured by British troops and briefly held prisoner.
After the war he moved to the Canary Islands and has been committed to a peaceful resolution of the Falklands dispute.
Doria has written a book on his war experience with a preface by the British officer who interrogated him after capture, Nick Van Der Bijl.
The war vet gifted a copy of his Trip to the Centre of War, whose profits he has donated to charity, to Pope Francis.
"This is the first step. The first path is to heal the wounds with respect and with words and to open a dialogue based on respect," Doria told The Times.
"Then we must have a non-aggression pact between England and Argentina."
Born Jorge Mario Bergoglio on 17 December, 1936 in Buenos Aires, Pope Francis was appointed the Archbishop of the Argentinian capital in 1998, and was elevated to the cardinalate in 2001.
Before his election as Pontiff last year, Francis was a vocal supporter of Argentina's claims over the Falklands, known as Las Malvinas in South America.
"We come to pray for all who have fallen, sons of the homeland who went out to defend their mother, the homeland, and to reclaim what is theirs, that is of the homeland, and it was usurped," Francis told worshippers at a memorial mass in Buenos Aires marking the 30th anniversary of the conflict.