Pope Francis has given yet another example of his rather unconventional and humble style by using a shut Bolivian Burger King to change his vestments before the Mass.
The 78-year-old Argentine pontiff, who is touring Latin America, needed a wardrobe change before celebrating the Mass for thousands of Catholic faithful waiting at Christ The Redeemer Square in Santa Cruz. His entourage approached Alfredo Troche, manager of the fast-food joint, and "asked for help because this was an appropriate place and we had closed".
Francis had just spent 30 minutes in his popemobile waving to the crowd.
The restaurant published a post on Facebook thanking the Pope "for choosing the BK restaurant as your sacristy", according to AP. It also included an advertisement-like image showing the pope beneath a Burger King logo and the words: "There are visits that don't just bring joy to your spirit, but also feed it."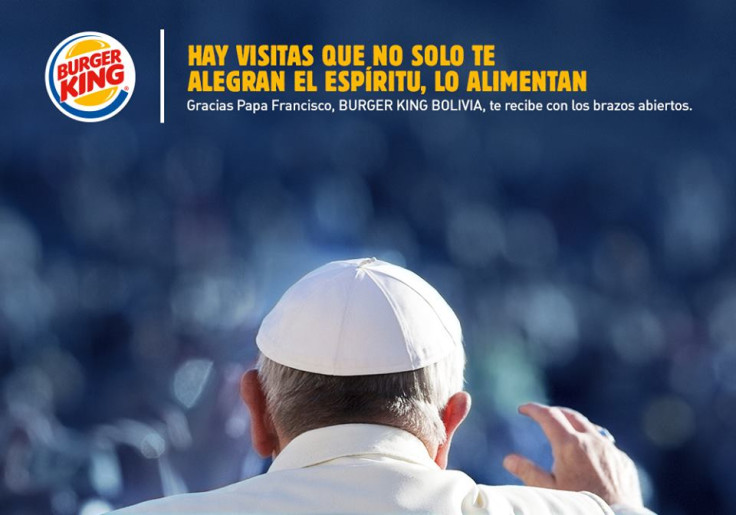 ABC journalist David Wright posted pictures of the altar and the papal throne used by the Pope in the Burger King.
Ironically, Pope Francis denounced consumerism during his homily, blasting the "throwaway" culture of today's society who dismissed anyone who is unproductive. He decried the mentality of the world economy where the poor, the elderly and the humblest are "discarded".
"It is a mentality in which everything has a price, everything can be bought, everything is negotiable," he said. "This way of thinking has room only for a select few, while it discards all those who are unproductive."
Earlier on the day, Francis received a rather unusual gift from Bolivia's first indigenous president Evo Morales − a crucifix carved into a wooden hammer and sickle, the Communist symbol of the union of labour and peasants.
But the controversial gift was similar to the one belonging to Father Luis Espinal, a Jesuit priest who was detained, tortured and killed by Bolivia's paramilitary squads.
"You can dispute the significance and use of the symbol now, but the origin is from Espinal and the sense of it was about an open dialogue, not about a specific ideology," said the Vatican spokesman, the Rev Federico Lombardi.
The Bolivian government said the gift was a symbol that Morales thought the Pope would appreciate.
"That was the intention of this gift, and it was not any sort of manoeuvre... It was really from great affection, a work designed by the very hands of Luis Espinal," Communications Minister Marianela Paco told Patria Nueva Radio.