The leader of the Catholic Church, Pope Francis has appeared in the first papal 'selfie' with teenagers.
The picture was taken on a smartphone belonging to one of the youngsters and shows the Pope smiling with a group of young Catholics who were part of a church group from northern Italy.
Around 500 teenagers had travelled from the Diocese of Piacenza and Bobbio, 50 miles south of Milan, for a pilgrimage, and shared a private audience with the pontiff.
During their meeting with the Pope afterwards for an informal chat, the selfie was taken.
Fabio Ragona, one of the youngsters posted it on Facebook and used it as his profile picture. The image went viral in a matter of minutes.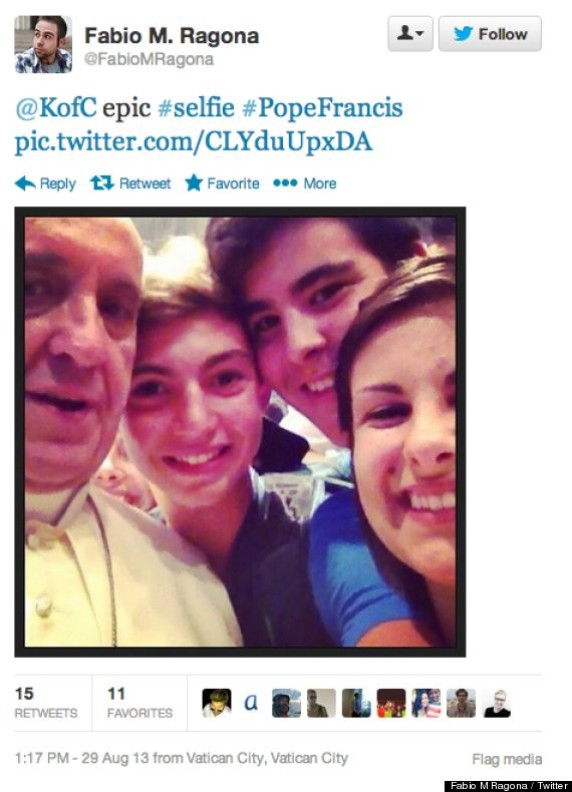 Before the selfie was shared around the world, the teens presented the Latin American Pope with the rather more traditional gift of a wooden-framed illustration of Jesus wearing a crown of thorns.
The Pope told the young crowd he wanted to meet with them "for selfish reasons ... because you have in your heart a promise of hope".
"You are bearers of hope. You, in fact, live in the present, but are looking at the future. You are the protagonists of the future, artisans of the future," the pope told the pilgrims, according to an AFP report.
"Make the future with beauty, with goodness and truth," he said. "Have courage. Go forward. Make noise."
Since the Pope was elected in March, he has made clear his intention to connect with young people, and to move the papacy into a more modern, informal age.
The 76-year-old religious leader has introduced a personal touch to his papacy, including phoning a rape victim and a Brazilian prisoner to discuss their stories, and became the first Pope to wash the feet of female, Muslim prisoners during an Easter service.
The photo caused mixed reactions on Twitter, with one user saying: "Now I've seen everything" and another quipping: "It's the end of the world as we know it."
One Tweeter grumbled: "Just because Pope Francis poses for a 'selfie', doesn't make it okay!"
The picture comes in the same week that the Oxford English Dictionary added the word 'selfie' to denote a self-taken photograph on a smartphone.