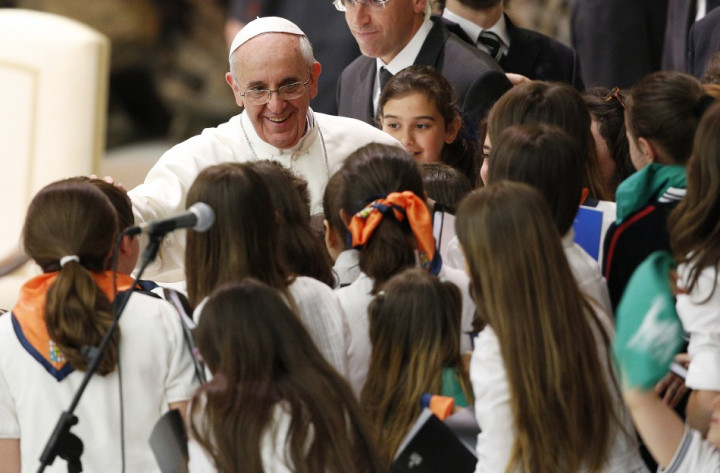 Pope Francis has joked that he does not want to live in the traditional papal apartment in the Holy See for "psychiatric reasons" as he suffers from a "personality problem".
At a meeting with thousands children from Jesuit schools across Italy and Albania, Francis, 76, said he preferred the company of other guests at the Vatican's St Martha guesthouse rather than living on his own in the pontifical apartments previously occupied by Benedict XVI.
"It is not a matter of luxury," Francis told Teresa, six, who had asked him why he had not moved out of the guesthouse. "I need to live with people. If I lived alone, I would feel a bit isolated and it wouldn't be good for me.
"A professor asked me about this and I told him, 'Listen professor, it's for psychiatric reasons'. It is my personality. The flat is not grand but I can't live alone."
The former Cardinal Jorge Bergoglio of Buenos Aires also admitted that he did not want the Catholic Church's top job.
"Someone who wants to be Pope does not really like themselves... I did not want to be Pope," he said.
Bergoglio touched again on economic issues in a reprise of his diatribe against the "cult of money" for causing growing inequality across the world.
"People are slaves of economic and social structures that we have to free ourselves form," he said. "Nowadays money matters, not people."
"Consumerism has accustomed us to waste. But throwing food away is like stealing it from the poor and hungry," he tweeted from his account, @Pontifex.
Bergoglio took the name of Francis from St Francis of Assisi, saying that the founder of the Franciscan Order's devotion to the poor should work as an example for the whole Catholic Church from the top down.