"What's it like to orgasm in zero gravity? And what happens when you get it on in outer space?" These are the questions posed by Eva Lovia, a porn star hoping to make history by being part of the first porn film in space.
In order to provide answers for Lovia, popular adult site PornHub has launched a crowdfunding campaign with the hope of raising $3.4m (£2.2m) within 60 days.
"Since its inception, PornHub has been committed to bringing you the best online porn experience available on earth," said Oswald Bean, PornHub's 'senior space advisor'.
"Aside from the endless hours of entertainment available on our site, we brought our A game to projects like music video collabs with artists such as Coolio and Waka Flocka Flame, and have even helped make the planet a little greener with our recent Arbor Day initiative.
"However, the time has come to raise the bar even higher. I mean really high, like outer space high."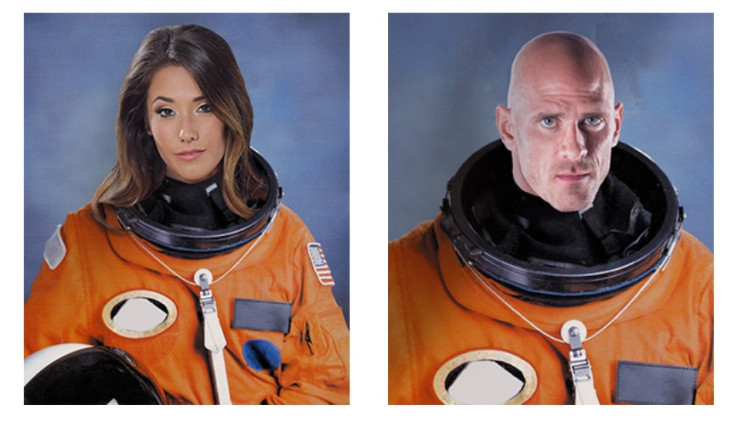 Joining Lovia on PornHub's "space sexploration" mission will be Johnny Sins, veteran of nearly 600 porn films since joining the industry in 2006.
"I've had sex pretty much everywhere and every way that you can imagine," Sins said. "I've had sex on almost every different continent with all kinds of different women.
"Don't get me wrong, I love what I do and who I do but this is a really unique opportunity to break ground in the adult industry. I'm beyond excited to be a part of the PornHub space programme for this exact reason: We're going to make porn in space."
Lovia's previous credits include Cheer Squad Sleepovers 12 and Squeals of Ticklish Nice Girls. She called the endeavour an "amazing opportunity to make history" and to fulfil her ambition of working her two dream jobs at the same time: porn star and astronaut.
Prospective funders are offered a variety of perks, ranging from the Earth option of a private lunch date with one of the porn stars to the Uranus option of securing one of the space suits worn on set.
PornHub says the money will only contribute towards the video equipment and space shuttle seating for the crews and performers – all other costs will be provided for by the porn site.
At the time of publication, the IndieGogo campaign had raised $5,620 towards the target from more than 250 donors.