Portugal vs Wales: Gareth Bale dreams of playing Germany in the final of Euro 2016
KEY POINTS
The 26-year-old forward has scored three goals during the tournament in France.
Bale has revealed pre-tournament banter he shared with Real Madrid teammate Toni Kroos.
Wales star Gareth Bale is relishing his country's success at Euro 2016 after receiving years of abuse from his club teammates. The 26-year-old star has been one of Wales' outstanding performers at the tournament and ahead of their eagerly-awaited semi-final against Portugal, Bale has revealed his pride at their achievement.
Euro 2016 is the first time Wales have qualified for a major tournament in more than 50 years. But ahead of the event, Bale was being teased about Wales' participation by his Real Madrid teammate Toni Kroos. For that reason, Bale would love to beat Portugal and set up a semi-final against Kroos' German team.
"I remember Toni Kroos saying we'd only have three games here," the Madrid star said, according to Sky Sports. "So it would be nice to meet him in the final. It was a good laugh and a joke - a bit of banter - but I've had a lot of abuse over the years."
Bale also reflected on how far Wales have come under the management of Chris Coleman. "When we used to lose and we were 100th in the world, people would say, 'You have nine weeks' holiday instead of two'," said Bale, who won the Champions League with Madrid in May. "So it's great to finally be in a major tournament actually doing great things with our national team."
And while Bale admits his team have exceeded many fans' expectations at Euro 2016, he always believed they could achieve something special this summer. "We've obviously exceeded a lot of people's expectations, we understand that," said Bale, who joined Madrid in 2013. "But we always believed we could go all the way - you see the fairytale of Greece and Denmark in the past and you think, 'Why can't we do it?'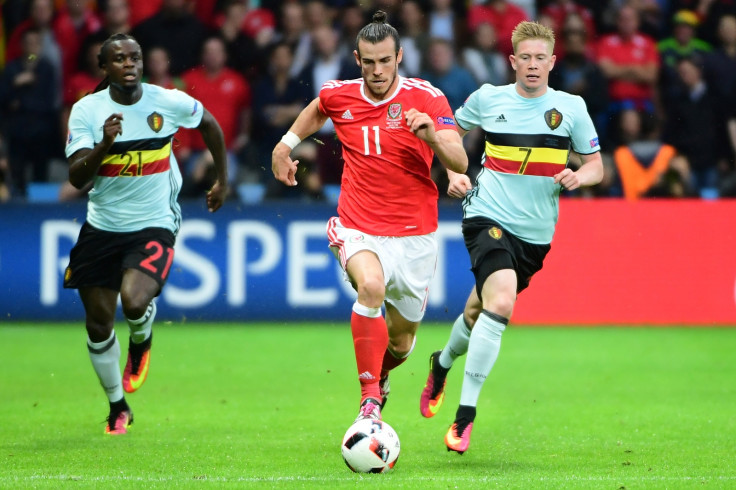 "We grew as a team in qualifying and we've just grown more throughout the tournament. The England game [a 2-1 loss] we learned from our mistakes of not passing the ball.
"When we've had to win ugly we've won ugly, and when we've had to play football we've played football. I fully believed that we could do something, that is why I booked my holiday for the 11th [of July]. I am not like the others. We gained a lot of confidence, especially from the Belgium game in qualifying.
"We felt we could beat the big teams and we have grown from there. We learned a lot from the first two games against Slovakia and England, we have really progressed since then and got a lot more confident."
© Copyright IBTimes 2023. All rights reserved.