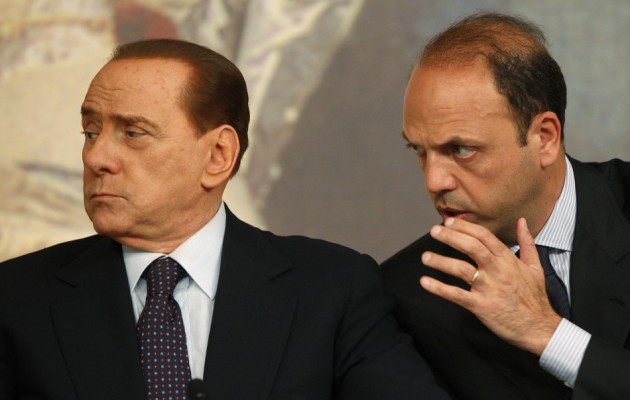 A day after Prime Minister Silvio Berlusconi promised to resign as soon as parliament approves urgent budget reforms, Italy awakes Wednesday to political limbo.
The parliament is expected to pass by the end of the month a package of reforms to prop up the economy, and only after that will President Giorgio Napolitano begin consultations with the political parties on the way forward.
The 75-year-old tycoon and his party called for fresh elections to be held in February at the earliest. He also is pushing Angelino Alfano, secretary-general of his People of Freedom party (PDL) and former justice minister, as his successor. A Sicilian lawyer and out-and-out Berlusconi loyalist, 41-year-old Alfano has been seen as Berlusconi's heir apparent since he became the youngest justice minister in Italy's history in 2008. He cheerfully engaged in the day-to-day battle against the judiciary and magistrates to shelter Berlusconi from his many trials.
However, according to the Italian Constitution, it is Napolitano's duty to decide whether to call new elections or to appoint a new leader to try to build another majority in parliament. The opposition Democratic Party insisted that only a transitional government including members of all parties could push forward reforms needed to stabilize the economy.
The leader of the centrist UDC party, Pier Ferdinando Casini, could be an ideal candidate for this government. But Berlusconi told one of his three television channels: "It is absolutely unthinkable in a democracy for the parties that lost the election to assume governmental responsibilities." Other members of Berlusconi's PDL said the formation of a broad-based government would be difficult.
"All the leaders of the PDL prefer early elections, because it's hard to imagine a government of national unity," Education Minister Mariastella Gelmini told Italian television, pointing to major disagreement among the parties.
Another option favoured by the markets is the appointment of a government of technocrats. Economist and former European competition commissioner Mario Monti is widely seen as the favourite candidate, although his latest articles were highly critical of Berlusconi's economic policies. The media mogul and his closest allies, indeed, have claimed that a government of technocrats would be an undemocratic "coup" that ignored the 2008 election results.
Finally, rumours around Ferrari boss Luca Cordero di Montezemolo, an outspoken critic of the Berlusconi government, have risen since last summer. He founded the Italia Futura association of business and cultural leaders in 2009 aimed at encouraging civil debate and political renewal in Italy. Montezemolo has been identified in the media as a possible future leader of the country but has kept quiet when asked about possible political ambitions.