Precious metals traded higher on 8 July as traders added speculative positions and helped by upbeat physical demand outlook. Spot silver has performed the best against the US dollar compared to gold and major currencies while palladium has rallied to a new 13-year high.
Performance
In a list of 40 plus commodities and forex futures in the order of daily relative performance, the four precious metals have featured in the first seven on Tuesday, as per the data compiled by Finviz.com.
Spot silver strengthened 0.86% against the greenback while gold rose 0.46% followed by commodity currencies Australian and New Zealand dollars, both by 0.32%.
Traders said the liquidity outlook for silver futures is likely to increase as the Dubai Gold & Commodities Exchange plans a silver contract for immediate delivery after spot gold is introduced in the third quarter.

Positioning
Net non-commercial positions in silver has increased to 40,299 in the week from 1 July, its highest since December 2012, compared to 29,330 in the previous week, data from CFTC showed.
In gold, the same has risen to 146,025, the highest since January last year, and up from 120,859 in the previous week.
A Kitconews article showed that a combination of short covering and new buying boosted fund managers' bullish precious metals holdings across the board on the Comex division of the New York Mercantile Exchange and Nymex in the latest Commodity Futures Trading Commission data for the week ended July 1.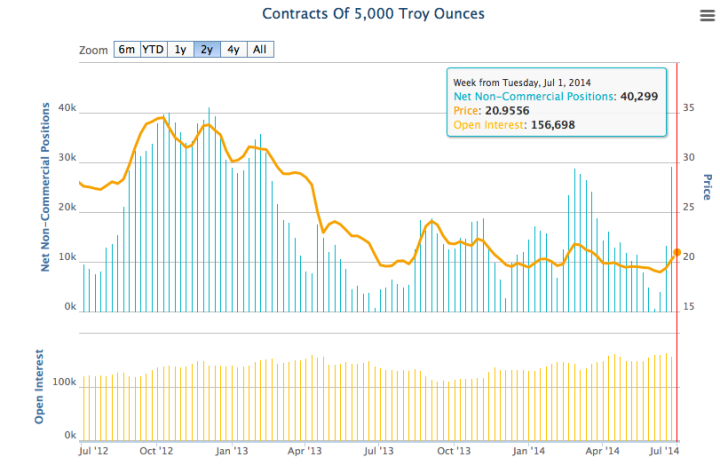 Price Action
At 13:36 GMT, silver traded at $21.08, after rising to as high as $21.18, from previous close of $21.03. In fact the metal is holding just under the over three month high of $21.28 touched on 2 July.
Palladium was at $871.07, after touching the new multi-year high at $874.10. It has been trading higher for the thirteenth straight day and has strengthened more than 6.7% during that period.
Analysts expect palladium to rally further higher given the sharp fall in production this year after the five-month strike in South Africa, the second largest producer of the metal. Demand is also projected to increase owing to the auto industry demand from China and US.
Gold rose to $1324.04 from $1319.55 at Monday's close and similar to silver, it is holding just under the three-month high of $1333.22 touched on 1 July.
Traders said the gold market is keeping an eye on India's federal budget on 10 July and the outcome of monsoon rains in the country, which will be crucial in deciding the demand for the yellow metal.
Platinum rose to $1496.20 from Monday's close of $1489.75. It had touched a 10-month high of $1518.40 on 2 July, which is not far away now.