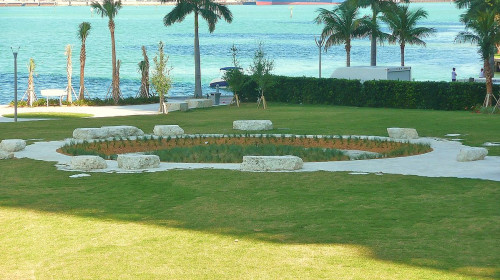 An ancient village dating back to 500-600 BC has been excavated at a $600m (£367m) property development site in downtown Miami in Florida.
In what has been described as perhaps "best-preserved prehistoric town plan in eastern North America, archaeologists uncovered a network of several thousand holes in the ground indicating the base layout for a building.
"We got to the point in recent months where we realised this wasn't an isolated circle or structure but a whole complex of buildings," archaeologist Bob Carr, whose company did a historical analysis of the building site, told the CNN.
The holes are believed to have been the foundations of a prehistoric settlement of the ancient Tequesta tribe, who lived until the 18th century in what is today Metro Miami.
According to archaeologists as many as 1,000 Tequesta people lived in those buildings.
Carr said the tribe lived in Florida for about 2,000 years, until Spanish control in the 1700s, but had disappeared from the state by the time Britain took over in 1763. They are believed to have later migrated to Cuba.
During the excavation, which began in October, several pieces of pottery dating back to the same period were also recovered.
Meanwhile, the discovery has come as a hurdle to the completion of a decade-long construction project, Met Square. The mixed use development project is near completion at the site.
The developers have proposed a plan to build a model of the Tequesta village that they will put on display in the complex.
"The point of it is to create knowledge -- not just to save things but to understand them. The company's plan would allow the public to learn more about the site than they would if the site were simply preserved as is, as another Tequesta site nearby -- the "Miami Circle," identified in 1998 -- has been," Gene Stearns, developer's lawyer, said.