A host of former football internationals including Ray Parlour, Martin Keown, Graeme Le Saux, Claudio Caniggia and Brian McBride will return to the game this weekend, stepping out for Wembley FC in their Extra Preliminary Round FA Cup tie against Langford FC.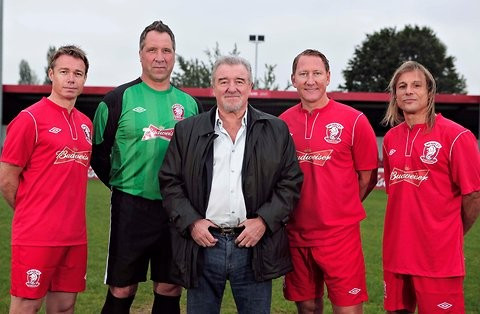 This will be the first time a preliminary round of the FA Cup will be shown live on TV, with ESPN broadcasting the tie live. It will also be shown live on Facebook, which is the second year the social network has been involved in broadcasting an FA Cup tie live.
The match sees former England boss and Wembley FC technical advisor Terry Venables take his place in the dugout, rallying the legends out of retirement for another shot at playing in the most famous domestic cup competition in the world.
Venables said: "The FA Cup holds some very special memories for me, from my time as both a player and a manager. The new boys coming in have a wealth of experience at the very highest level and people like Ray Parlour have the FA Cup winner medals to prove it. That can only help the lads here and shine a light on the importance of grassroots football here in the UK and around the world."
The progress of Wembley FC in this season's FA Cup is to be shown as part of a documentary series to be broadcast on ESPN from 16 August at 10pm. The eight-part series entitled Dream.On. The Journey of Wembley FC chronicles the life of grassroots football in the UK, looking at the non-league side and the signing of a number of household names within the squad and staff.
Brian Gumm, chairman of Wembley FC, comments "We know the local community of Wembley has been hotly anticipating this tie since the draw was made and we announced the legends eligibility at a press conference back in June. We're looking forward to our fans turning up on Saturday to share what will be a brilliant moment in this club's history."
Fans will be able to watch the game live on ESPN, www.facebook.com/budweiseruk or www.BudUnited.com from 12.30pm (GMT) on 11 August, with kick off at 12.45pm.