The Premier League is lagging behind the top leagues across Europe when it comes to its share of domestic talent playing week in week out.
Despite home-grown quotas forcing teams in the top flight to include eight of their own within their league squad, the system doesn't appear to have boosted the number of domestic players turning out for their clubs, with just 35% of players to start in the 2014-15 Premier League campaign eligible for England.
La Liga leads the way in regard to domestic talent, with 58% of last season's starters qualified to represent Spain at international level. Ligue 1 in France (52%) and Germany's Bundesliga (48%) are also steaming ahead. Serie A had the second lowest proportion of domestic players, but its 45% is still a vast improvement on the Premier League.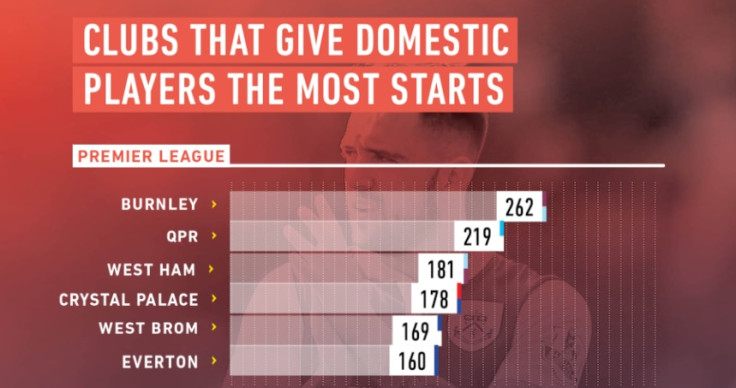 Another worrying trend shows the two clubs who handed out the most starting appearances to English players were Burnley and Queens Park Rangers, who finished the season in 20<sup>th and 19<sup>th place respectively.
Across the channel, clubs to have fielded most domestic players in France in Lyon (277), Saint-Etienne (275) and Marseille (272), all finished in the top five of Ligue 1.
In the statistics provided by Bwin, the Premier League predictably dominates its continental counterparts when it comes to spending with a total of €529,880,000 (£388,840,000, $814,030,000) outlaid in net spend for the 2014-15 season.
In second place is the Bundesliga, trailing by a considerable margin of nearly €300,000,000.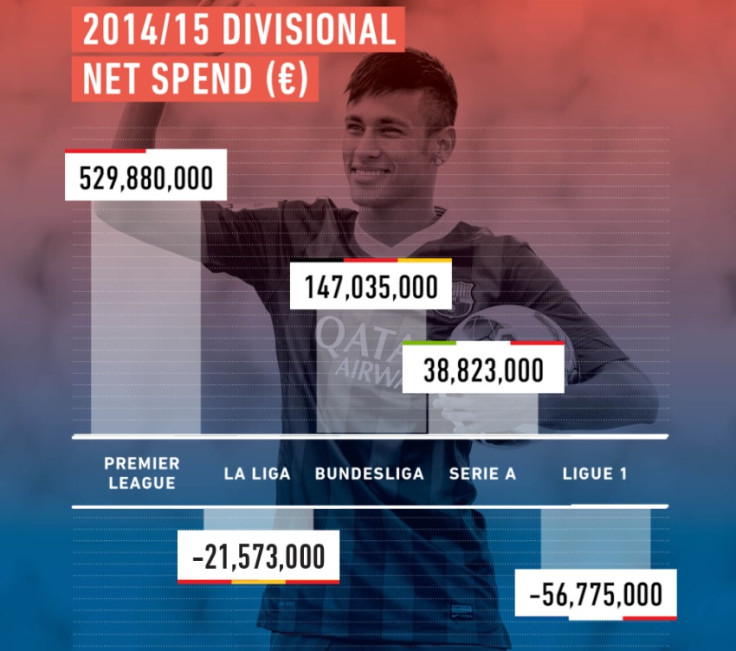 Statistics will do little to bolster the idea that the Premier League is the biggest purveyor of goals and entertainment, however. England's top flight sits second from bottom in the mini-table of Europe's elite leagues when it comes to goals per game in data collected from the 2014-15 campaign.
The Bundesliga comes out top, averaging 2.77 goals a game with 51% of those games finishing with three or more goals.
La Liga sits third with an average of 2.61 per game while Serie A, battling the perception that it is the most boring on the continent, come in third place with 2.57. Only Ligue 1 trails the Premier League (2.55) with a paltry average of 2.44 goals a game.
English football can take some solace however knowing that it, along with La Liga, boasts the smallest percentage of goalless draws from last season, with just 8% of games in both leagues finishing 0-0.