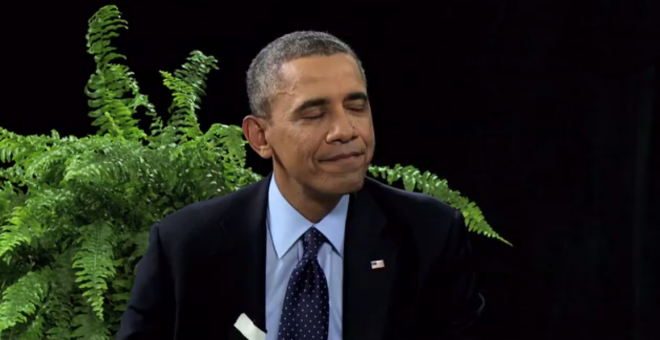 President Barack Obama has become the unlikeliest guest on comic actor Zach Galifianakis' Funny or Die sketch talk show, Between Two Ferns.
Previous guests on the show include Justin Bieber and Galifianakis' Hangover co-star Bradley Cooper – who he got in a slap fight with.
Obama took part on the show to help reach young people and get them to sign up to the Affordable Care Act before the 31 March deadline.
Before he got round to "plugging" that however, Galifianakis had some questions for the 44th President of the United States, including "What's it like to be the last black president?" and "Is it going to be hard in two years when you're no longer president and people stop letting you win at basketball?"
The sketch show became a hit thanks to its big stars and wonderful deadpan, passive aggressive humour – which despite some early signs of being unable to hold back the laughter, Obama proved very good at.
Obama gave as good as he got. After being asked whether he'd want to run for a third term as President if he could, Obama retorted: "If I ran a third time it would kind of be like doing a third Hangover movie, that didn't really work out very well did it?"
Later in the six minute sketch, Galifianakis said: "You know what I would do if I were President Mr President? I would make same sex divorce illegal, then see how bad they want it."
Of course Obama got in what he needed to say about the Affordable Care Act, but the show's host got some shots in of his own. "Why would you get the guy who made the Zune to make your website?" he said, referencing the awful trouble the act's website HealthCare.gov was in when it first launched.
It ended with a bit revealing that the show had been filmed in the White House's Diplomatic Room. "Who gave you permission to do that?" asked Obama.
"Bush."