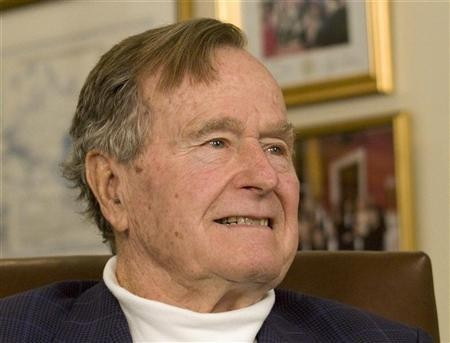 Former US president George H W Bush's condition has improved after he was treated in an intensive care unit for a week.
Bush has been moved out of intensive care but will continue to undergo further treatment at the Methodist Hospital in Houston.
The 88-year-old former leader has been suffering from bronchitis.
"President Bush's condition has improved, so he has been moved today from the intensive care unit to a regular patient room at the Methodist Hospital to continue his recovery. The Bushes thank everyone for their prayers and good wishes," said family spokesperson Jim McGrath.
He said that Bush's condition is getting better and he has been frequently singing songs.
"George Bush is the most relentlessly upbeat man you'll ever meet, and his spirits have been good throughout this ordeal," McGrath said in an email reply to Reuters.
The oldest living US president was admitted to the hospital on 23 November following complaints of respiratory problems.
It is not known how long the World War II veteran will be in hospital. He has been using a wheelchair for more than a year.