US President Barack Obama arrived in Havana, Cuba for a historic three-day visit on 20 March. It is the first time that a sitting US president has travelled to the island nation in nearly 90 years and marks warming relations between the US and Cuba following a December 2014 agreement between Obama and Cuban President Raul Castro.
The president landed at Jose Marti International Airport in Havana and was joined by his wife, Michelle, her mother, and his two daughters, Malia and Sasha. The last time a US president visited was in 1928 when Calvin Coolidge arrived aboard the USS Texas. This time the island's Communist government rolled out a red carpet for Obama and his family, who stepped out of the president's airplane umbrellas in hand.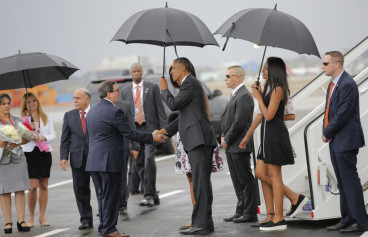 The Obamas were welcomed by Cuban Foreign Minister Bruno Rodriguez before entering a black armoured limousine emblazoned with US and Cuban flags on the hood of the vehicle. The family were also greeted by Josefina Vidal, head of the US section of Cuba's Foreign Ministry, and Jeffrey DeLaurentis, the senior US diplomat in Cuba.
The three day visit will include talks with Raul Castro, but not his brother former President Fidel Castro. Obama will speak with entrepreneurs on 21 March, followed by a private meeting with dissidents, a live address to Cubans on state-run media and an exhibition baseball game on 22 March.
Relations between the two neighbouring countries, which became estranged during the Cold Way when Cuban revolutionaries ousted a pro-American government in 1959, have eased since Obama and Castro met in December 2014. The US and Cuba have restored diplomatic ties and have signed commercial deals on telecommunications and scheduled airline service. However, a 54-year-old economic embargo of Cuba by the US remains in place.
Hours before Obama arrived in Havana, dozens of female protesters, going by the name Ladies in White, marched down the streets of the capital. The demonstrators were met by hundreds of uniformed security personnel and an army of plain-clothed pro-government men and women. The Ladies in White – whose members include wives of political prisoners – reportedly clashed with counter-protesters. According to The Washington Post, the women were arrested as they shouted "Freedom, freedom, freedom!" and threw leaflets into the air.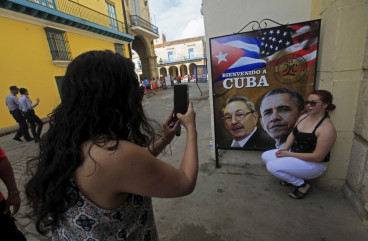 The Post noted that the Sunday-morning demonstration by the dissident group is a regular occurrence in the streets of Havana, but the magnitude of security forces and the international coverage of it were not. Meanwhile, welcome signs with images of the two presidents have shown up throughout colonial Old Havana, which the president will tour later in the day.
Despite welcoming Obama, Cuba has remained firm in its opposition of the occupation of the naval base in Guantanamo Bay. "We can't reach a normalisation of relations with the blockade still in effect and without resolving other themes of high importance," Foreign Trade and Foreign Investment Minister, Rodrigo Malmierca Diaz said.
In turn, Obama has said that US support for dissidents and anti-community radio and TV programmes beamed into Cuba are not up for discussion. Obama's aides have noted the president will address the nation's one-party rule and political repression of opponents publicly and privately. Little progress on the major issues is expected from Obama and Castro's meeting on 21 March.