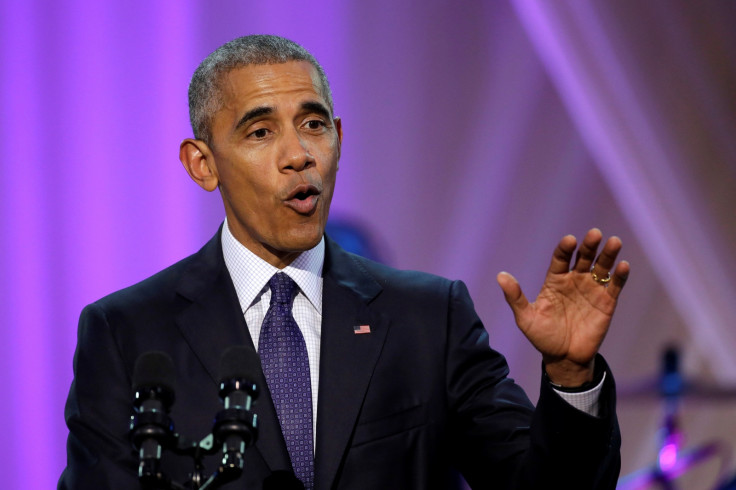 Barack Obama has got the moves, there's no question about that. We have seen him waltz with wife Michelle, boogie with a 106-year-old fan and now the US president has been caught on camera dancing to Drake's hit track Hotline Bling.
Usher captured the video while on a visit to the White House where he performed at the BET's Love and Happiness: A Musical Experience on Friday, 21 October. Janelle Monáe, Jill Scott, Common, and The Roots also took the stage at the event.
After the show, the artists and Obama got on to the dance floor where the No Limit singer captured the POTUS letting loose. "Yeah, this is happening," the singer said in the video, which he posted on Instagram.
"Over the past eight years, Michelle and I have set aside nights like this to honour and celebrate the music that has shaped America. This has been one of our favourite traditions and it is with bitter sweetness, our final musical evening as president and first lady," Obama said in his event-opening speech.
"This is one of the perks of the job I will miss most, along with Airforce One and Marine One. But you know, If you could just call up Usher, and say... hey, come on over to my house... sing with us... it doesn't get any better than that," he added.
Obama joked that "there will also be no twerking tonight. At least, not by me. I don't know about Usher."
He added, "This is the People's House and it ought to reflect the amazing diversity, and the imagination, and the incredible ingenuity that defines the American people. And while much of the music that you will hear this evening – gospel, R&B, rap – is rooted in the African-American experience. It's not just black music. This is an essential part of the American experience, it's a mirror to who we are, and a reminder of who we can be."
The president went on to thank the Marine bands for their service to the country, both as musicians and as active soldiers.
Watch Obama's full speech and some of the performances at the BET event below: