US president Donald Trump visited Texas on Tuesday (29 August) to check on the devastation caused by Hurricane Harvey and could not help but comment on the turnout of people who saw him give an impromptu speech outside a Corpus Christi firehouse.
As rain continued to fall, Trump stepped out from Annaville Fire House, where he had met Texas Governor Greg Abbot and other officials to discuss the ongoing situation. After emerging, the president grabbed a microphone and address hundreds of supporters who chanted, "USA! USA! USA!"
"Thank you, everybody," he said, according to The Washington Post. "I just want to say: We love you. You are special, we are here to take care of you. It's going well. What a crowd. What a turnout."
He continued: "It's historic. It's epic. But I tell you, it happened in Texas and Texas can handle anything."
According to New York Daily News, it was not the first time Trump has treated the worst natural disaster in Texas' history as televised event. Earlier, Trump praised FEMA Director William Long as "a man who's really become very famous on television in the last couple of days".
"We appreciate it very much, you have been just outstanding," Trump told Long.
On Monday (28 August) during a White House press conference, Trump said he expected coverage of Harvey last week would help him get "far higher" ratings for his decision to pardon Joe Arpaio.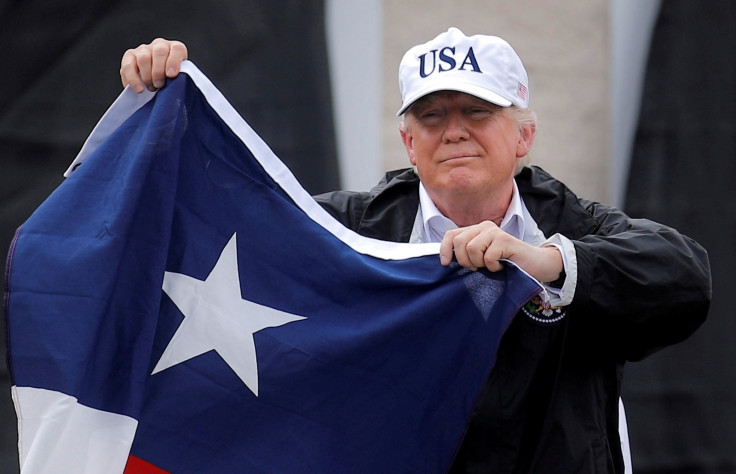 Trump, who avoided Houston in order to not become a "disruption" to the area's recovery efforts, is set to return to the area on Saturday (2 September).
At least 15 people have died in Texas because of Hurricane Harvey or the rains it brought after making landfall. Texas has experienced historic rain levels, forcing thousands to evacuate their homes.