The continuing impact of storm Harvey on the key US oil and gas hub of Houston, Texas and the resultant flooding in its wake on Tuesday (29 August) sent gasoline futures to their highest level since July 2015.
The storm has already dumped 30 in (75cm) of rain on America's oil capital, and the precipitation volume is expected to double by Wednesday, with reports of dam breaches and widespread flooding stretching from downtown Houston to the suburban residential neighbourhoods.
According to S&P Global Platts, around 2.2 million barrels per day (bpd) of refining capacity has been shut, currently limited to the Greater Houston Area and Corpus Christi.
The shutdowns include ExxonMobil Baytown (560,500 bpd), and Valero (293,000 bpd), Citgo (157,500 bpd), Flint Hills (296,470 bpd), Magellan (50,000 bpd) and Buckeye (50,000 bpd) – all in Corpus Christi.
Shell Deer Park (340,000 bpd), Pasadena (112,229 bpd), Phillips66 Sweeny (247,000 bpd) and Valero Three Rivers (89,000 bpd) facilities have also been temporarily closed.
The refinery shutdowns, and perceptions of lacklustre demand have had a bearish impact on crude futures, with the West Texas Intermediate trading down 1.46% or 68 cents to $45.89 per barrel at 4:03pm BST. Concurrently, Brent fell 0.46% or 24 cents to $51.65 per barrel.
Yet, Brent did not come under anywhere near as much pressure as the WTI, as outsized pressure on the latter served to further widen the spread between the two major crude benchmarks to more than $5 per barrel.
Meanwhile, the refinery outage had the opposite impact on fuel prices, with the gasoline futures contract for September delivery, traded on the New York Mercantile Exchange (NYMEX), up 2.16% to $1.7495 per gallon, lurking around its highest level since July 2015.
Tuesday also marked the third successive session of gasoline price spikes since Harvey emerged on the Gulf of Mexico horizon, initially as a category four storm on the Saffir-Simpson hurricane wind scale on 25 August.
The trickledown effect on gasoline prices at US pumps is likely to be felt over the coming two weeks, as retailers scramble to secure supplies and the current futures contract expires.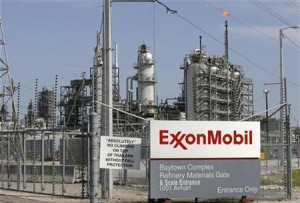 Latest estimates from the US Energy Information Administration (EIA) suggest gasoline stocks are currently at 230 million barrels, representing about 22 days of supply, with Texas and Louisiana coastlines – currently feeling the impact of Harvey – being major refining hubs.
Ports and oil terminals in the Greater Houston area also remain closed, and although ports in Louisiana are currently open, disruption is expected late on Tuesday and Wednesday.
Analysts at JBC Energy said current disruptions are affecting both demand and supply, making it difficult to assess the impact on balances at this point.
"However, assuming that outages at most US Gulf Coast refineries do not last longer than the next week or so, we could imagine that a major but brief reduction in runs could translate into an additional 100,000 to 150,000 bpd of intake (in the US and elsewhere) over the subsequent three months as lost inventory volumes are made up for."