A Houston police officer drowned in his patrol car in the floodwaters of Hurricane Harvey, department officials confirmed. Houston Mayor Sylvester Turner identified the officer as 60-year-old Sergeant Steve Perez.
The Houston Police Department 34-year veteran was driving to work downtown on Sunday (27 August) when he got trapped in high water at I-45 and the Hardy Toll Road, the Houston Chronicle reported. Search and rescue crews were working to recover Perez's body.
"He was trying different routes, and took a wrong turn," a high-ranking official, who asked not to be identified, said. After the officer got trapped, he tried to get out but was unable to.
Turner said the officer drove for more than two hours seeking a safe route to work. His body was recovered from his flooded vehicle at 8am local time.
"Sergeant Perez fulfilled his purpose. His mission is complete. This city ought to celebrate his life. 9K police and fire working to serve," the mayor tweeted.
The officer is the 15th person to die in Texas because of Hurricane Harvey or the rains it brought after making landfall. Texas has experienced historic rain levels, forcing thousands to evacuate their homes.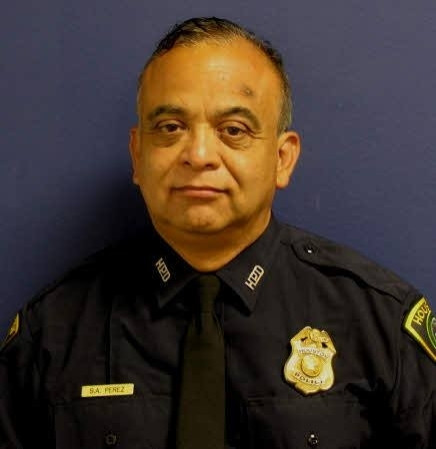 Following the breach of the Columbia Lakes levee in Brazoria County, just south of Houston, on Tuesday (29 August), officials are urging residents in the area to evacuate. Officials said the levee is near a subdivision of homes and water is pouring in, CBS Houston reported. A mandatory evacuation was issued on Sunday (27 August).
Meanwhile Donald Trump is in Texas having flown to Corpus Christi with his wife Melania on Tuesday afternoon. He said: "This storm, it's epic what happened. But you know what, it happened in Texas and Texas can handle anything."