President Trump excitedly pretended to drive a truck and the internet went bonkers
"No one knows America like truckers know America," Trump said.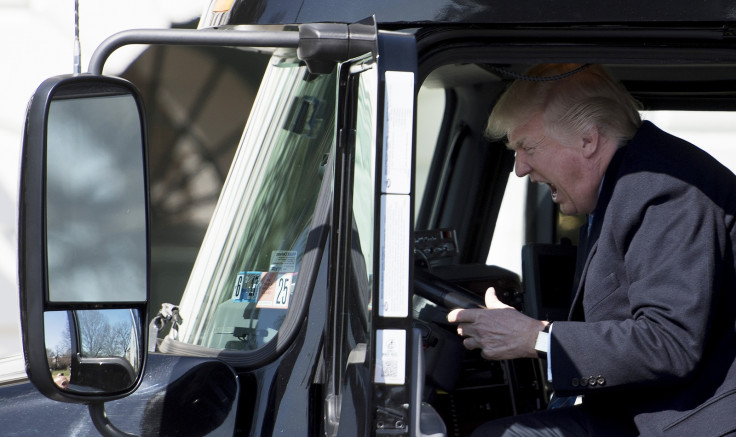 As House Republicans postponed the vote on the American Health Care Act, President Donald Trump met members of the American Trucking Association to discuss healthcare. Donning an "I Love Trucks" button on his lapel, Trump also climbed into the front seat of a parked 18-wheeler on the South Lawn, honked the horn a couple of times and pretended to drive it.
He also enthusiastically pumped his fists, pulled a few whimsical expressions and gestures much to the excitement of onlookers.
The photo op came before his meeting with truckers and trucking executives.
"No one knows America like truckers know America," he said during the meeting. "You see it every day. You see every hill, and you see every valley and you see every pothole in our roads that have to be rebuilt."
The Washington Post reports that Trump mentioned multiple times during their visit that he should probably get back to his lobbying efforts.
"I'm not going to make it too long, because I have to get votes," Trump said, the Post quoted him sas saying. "I don't want to spend too much time with you. I'm going to lose by one vote and then I'm going to blame the truckers."
However, it didn't take very long for the internet to erupt with a spate of hilarious memes, captions and jokes using the hashtag #TrumpTruck.
"When your mommy tells you to get out of the truck, but you don't want to go," one Twitter user's caption read. Some Twitter users also mocked the timing of the photo op.
"Trump played "Truck" while Paul Ryan got his a** kicked in the House", one user tweeted.
© Copyright IBTimes 2023. All rights reserved.