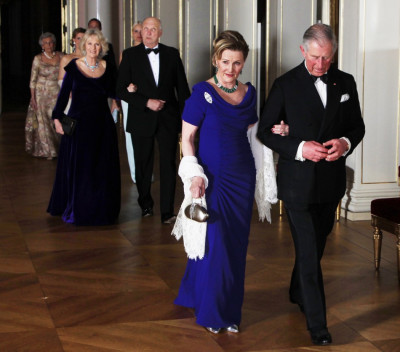 As part of Queen Elizabeth's Diamond Jubilee celebrations, Prince Charles and the Duchess of Cornwall arrived in Oslo for the first day of their tour of Scandinavia and attended a state dinner with the King and Queen of Norway.
At the official dinner, both Charles and Camilla were able to sample the local delicacy, cured moose, as he paid tribute to the close links between the UK and Norway.
Thanking the nation for looking after Prince Harry during a recent visit, Prince Charles said: "Thinking of the ties between our two countries, I cannot thank you enough for ensuring my younger son did not contract frostbite or lose any vital appendages while he was in Svalbard exactly a year ago, making a television programme about wounded British servicemen walking to the North Pole."
The speech also raised a laugh from the people present at the event as Prince Charles said that the people of Norway were "kind enough to deliver him back to us in time to perform his best man duties at my elder son's wedding".
He spoke about his fond memories of earlier visits to the nation as he and his sister came with their parents in the Royal Yacht Britannia.
Earlier, the royal couple visited the Norwegian capital's Nobel Peace Centre and were introduced to members of the Labour youth league, the AUF. These members were on the island of Utoya for a summer camp on 22 July, 2011 when right-wing extremist Anders Behring Breivik launched an attack, shooting dozens of people.
IB Times UK has compiled a slideshow of Prince Charles and the Duchess of Cornwall during their Diamond Jubilee tour: