Prince Charles has been urged to cancel a proposed trip to Myanmar this autumn as Aung San Suu Kyi's government faces mounting criticism for its persecution of Rohingya Muslims.
The Foreign Office has asked Prince Charles to draw up a plan for a November visit to Myanmar as part of a tour to several Asian countries, The Times reported.
Human rights campaigners have called on the royal to drop the country from the itinerary as the Myanmar army is accused of targeting Rohingya Muslims in an "ethnic cleansing" operation.
Last week, eyewitness reports emerged of Rohingya civilians being beheaded and burned alive in the Rakhine state. Civilians told Fortify Rights, a human rights group based in Bangkok, that the country's military is carrying out mass killings and arson attacks against the Rohingya community.
UN human rights chief Zeid Ra'ad al-Hussein has described the army's targeting of Rohingya Muslims as a "textbook example of ethnic cleansing." He said the UN has received "consistent reports of extrajudicial killings, including shooting fleeing civilians" and called on Suu Kyi to end the "cruel military operation."
Some 370,000 Rohingyas have crossed the border with Bangladesh since violence broke out last month.
Suu Kyi has come under fire for refusing to publicly denounce the military violence and for barring humanitarian NGOs from Myanmar for "helping terrorists."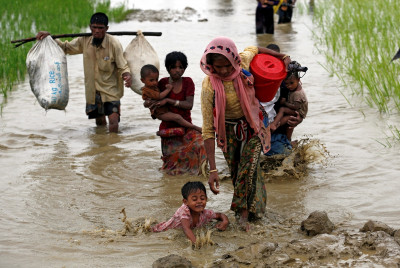 Mark Farmaner, director of Burma Campaign UK, said an official royal visit to Myanmar sent the wrong message at this time.
"To have someone of Prince Charles's stature go to visit the country would be seen as a reward, and giving legitimacy to the government and the military that are currently violating international law," he said.
Farmaner told The Times that although Prince Charles might be sensitive to the plight of the Rohingyas, considering his longstanding links to charities working in Myanmar, the British government had "looked the other way" as the crisis escalated.
"[The British government] wants to promote trade. To improve relations we are providing free training to the military, even as it is committing ethnic cleansing. The problem is the Foreign Office, not Prince Charles," he added.
Amnesty International's UK director, Kate Allen, said Prince Charles should raise the suffering of Rohingya during a visit to Myanmar.
"Prince Charles should add his voice to those calling for Ms Suu Kyi to rein in the military and allow UN monitors to go to [Burma] and investigate these terrible incidents," she said.
Clarence House refused to comment on whether Prince Charles was planning to visit Myanmar in November.