Rohingya Muslims are being beheaded and burned alive as Myanmar's army continues to persecute women, men and children living in the Rakhine state, eyewitnesses have told a human rights watchdog.
Nearly 90,000 Rohingyas have fled across the border to Bangladesh since violence erupted in the northwestern state in August.
Rakhine civilians told Fortify Rights, a human rights group based in Bangkok, that the country's military is carrying out mass killings and arson attacks against the Rohingya community.
Sultan Ahmed*, 27, said he had seen soldiers beheading people in Chut Pyin, a village in western Myanmar on 27 August.
"Some people were beheaded, and many were cut. We were in the house hiding when [armed residents from a neighbouring village] were beheading people. When we saw that, we just ran out the back of the house," he told Fortify Rights.
Another survivor, Abdul Rahman*, described how he watched his brother being burned alive.
"We found [my other family members] in the fields. They had marks on their bodies from bullets and some had cuts. My two nephews, their heads were off. One was six-years old and the other was nine-years old. My sister-in-law was shot with a gun."
Eyewitnesses said that soldiers burned down every house in the village which had a population of 1,400 people. Only 596 survivors have been identified so far. More than 200 people are believed to have been killed in the bloodbath.
The Myanmar army carried out another attack on the Rohingya village of Chein Khar Li on 31 August. Satellite photos show that 99% of the village was destroyed, according to Human Rights Watch.
"This new satellite imagery shows the total destruction of a Muslim village, and prompts serious concerns that the level of devastation in northern Rakhine State may be far worse than originally thought," said Phil Robertson, HRW deputy Asia director.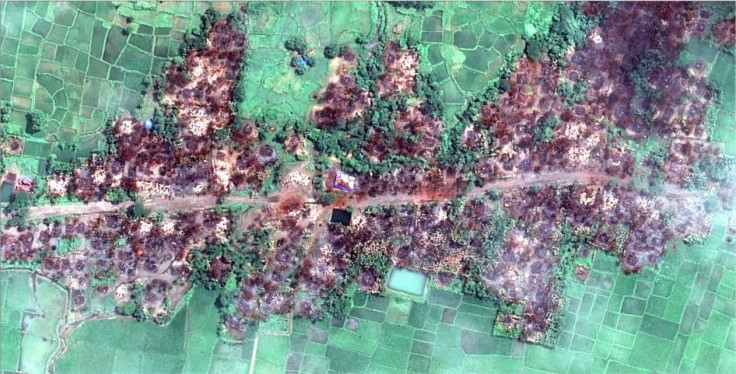 Myanmar's government has blamed the devastation on residents living in Rakhine who they say set fire to their own homes.
HRW has accused Myanmar's security forces of deliberately setting the fires. Robertson criticised the country's elected leader, Aung San Suu Kyi, for turning a blind eye to military violence against Rohingya Muslims.
"[Suu Kyi] frankly is really turning out to be someone who has no real abiding interests in human rights. It's quite clear in the case of the Rohingya, that she has been toeing a strong Burmese nationalist line, that these people don't belong here, and frankly, they're terrorists."
"She's a part of the problem, to be quite clear," he added.
Last week Suu Kyi's office accused humanitarian NGOs of helping "terrorists" and subsequently blocked UN aid agencies from delivering vital supplies to civilians in desperate need of water, food and medicine.
A spokesperson for the UN told The Guardian that "government field restrictions" prevented workers from distributing assistance.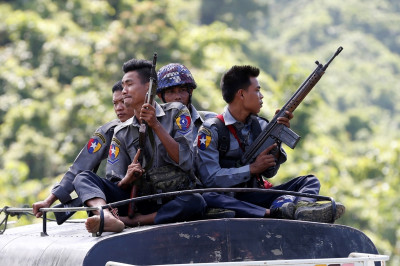 Robertson told IBTimes UK that Suu Kyi's "irresponsible allegations" have made it "doubly hard for humanitarian groups to operate as Myanmar staff do not feel safe."
He said that emergency supplies were not even reaching refugee camps in areas located far from the destroyed.
"Aung San Suu Kyi and her civilian government seem to be perfectly fine with letting the military go about their business, as she maintains a public silence about the gross human rights abuses happening against the Rohingya, one of the most marginalized groups of people in the world," Robertson said.
Britain's foreign minister, Boris Johnson, said that Suu Kyi is "rightly regarded as one of the most inspiring figures of our age" but warned that her army's violence against Rohingya Muslims was "besmirching the reputation" of Myanmar.
Nobel laureate Malala Yousafzai has called on Suu Kyi to condemn the army's "tragic and shameful treatment" of Rohingya Muslims.
* All names have been changed to protect the identity of the eyewitnesses.