As nearly 150,000 Rohingya Muslims have fled into Bangladesh from Myanmar in less than two weeks, UN Secretary-General Antonio Guterres has warned of possible ethnic cleansing. In a rare letter to the UN Security Council, Guterres expressed concern that the violence in Myanmar's Rakhine state could spiral into a "humanitarian catastrophe".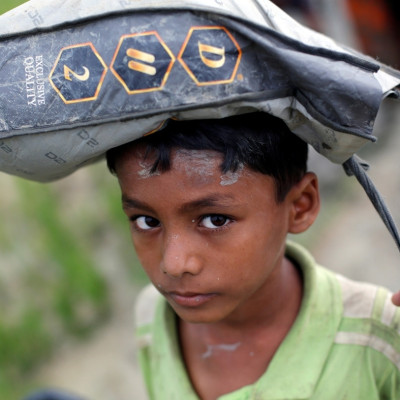 Guterres said it is crucial that Myanmar's government immediately give Muslims either nationality or legal status so they can lead normal lives and freely move, find jobs, and get an education. While the UN chief reiterated his condemnation of recent attacks by Rohingya insurgents, he also said the UN receives "constant reports of violence by Myanmar's security forces, including indiscriminate attacks" which he warned, will further increase radicalisation.
According to the latest estimates issued by UN workers operating in Cox's Bazar, arrivals in just 12 days stood at 146,000. This brings to 233,000 the total number of Rohingya who have sought refuge in Bangladesh since last October, 80 percent of them women and children.
The surge of refugees – many sick or wounded – has strained the resources of aid agencies and communities already helping hundreds of thousands from previous bouts of violence in Myanmar. Many have no shelter, and aid agencies are racing to provide clean water, sanitation and food.
Officials in Bangladesh said the government would press ahead with plans to develop an isolated, flood-prone island in the Bay of Bengal to temporarily house tens of thousands of Rohingya. The plan to develop the island and use it to house refugees was criticised by humanitarian workers when it was proposed in 2015 and revived last year. Bangladesh insists it alone has the right to decide where to shelter the refugees.
The UN source said Bangladesh may have revived the island plan to keep pressure on the international community, and not be left to handle the crisis on its own. "Bangladesh is getting desperate in wanting to get some political traction on this Rohingya issue. They feel incredibly isolated," said the source, who declined to be identified.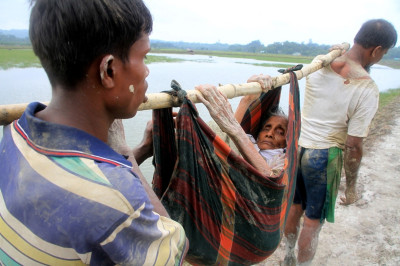 Unicef Executive Director Anthony Lake warned that many children in need of support and protection remain in the areas of northern Rakhine state that have been wracked by violence. He added that the UN refugee agency had no access to Rakhine trouble spots. "We are unable to reach the 28,000 children to whom we were previously providing psychosocial care or the more than 4,000 children who were treated for malnutrition in Buthidaung and Maungdaw" in Rakhine, he said. "Our clean water and sanitation work has been suspended, as have school repairs that were under way."
The military has said nearly 400 people, most of them insurgents, have died in clashes. Security forces responded to the attacks with days of "clearance operations" the government says were aimed at rooting out insurgents it accuses of setting fire to Rohingya villages. Independent observers put the death toll much higher. Many displaced Rohingya said it was Myanmar soldiers who set their homes aflame and fired indiscriminately around their villages in Rakhine state.
Myanmar leader Aung San Suu Kyi blamed "terrorists" for "a huge iceberg of misinformation" on the violence in Rakhine state but she made no mention of the exodus of Rohingya since violence broke out there on 25 August. She has come under increasing international pressure, particularly from countries with large Muslim populations.
Suu Kyi spoke by telephone with Turkish President Tayyip Erdogan, who has pressed world leaders to do more to help a population of roughly 1.1 million he says are facing genocide. In a statement issued by her office on Facebook, Suu Kyi said the government had "already started defending all the people in Rakhine in the best way possible" and warned against misinformation that could mar relations with other countries. She referred to images on Twitter of killings posted by Turkey's deputy prime minister that he later deleted because they were not from Myanmar.
Suu Kyi has met Indian Prime Minister Narendra Modi, who said he shared Myanmar's concern about "extremist violence" in Rakhine state. Modi's government has taken a strong stance on an influx into India of some 40,000 Rohingya from Myanmar over the years, vowing last month to deport them all. Suu Kyi has been accused by Western critics of not speaking out for the minority that has long complained of persecution, and some have called for the Nobel Peace Prize she won in 1991 as a champion of democracy to be revoked.
The latest violence in Rakhine state began when Rohingya insurgents attacked dozens of police posts and an army base. The ensuing clashes and a military counter-offensive killed at least 400 people and triggered the exodus of villagers to Bangladesh. Myanmar officials blame Rohingya militants for the burning of homes and civilian deaths. But rights monitors and Rohingya fleeing to neighbouring Bangladesh say the Myanmar army is trying to force them out with a campaign of arson and killings.
Myanmar has been laying landmines across a section of its border with Bangladesh for the past three days, two government sources in Dhaka said, adding that the purpose may have been to prevent the return of Rohingya Muslims fleeing violence. Bangladesh will formally lodge a protest against the laying of land mines so close to the border, said the sources who had direct knowledge of the situation but asked not to be identified because of the sensitivity of the matter. A Myanmar military source said landmines were laid along the border in the 1990s to prevent trespassing and the military had since tried to remove them, but none had been planted recently.
Myanmar, which was under military rule until recently and is one of the most heavily mined countries in the world, is one of the few countries that have not signed the 1997 UN Mine Ban Treaty.
---
Who are the Rohingya and why are they desperate to flee Myanmar?
The Rohingya are a Muslim minority in predominantly-Buddhist Myanmar, also known as Burma. They are concentrated in western Rakhine state, which is adjacent to Bangladesh. Their numbers have been estimated at about 1.1 million.
The UN says the Rohingya are one of the most persecuted groups in the world. Neither Bangladesh nor Myanmar recognises them as citizens. In Myanmar, even the name Rohingya is taboo. Myanmar officials refer to the group as "Bengalis" and insist they are illegal immigrants from Bangladesh, even though most have lived in the country for generations.
The Rohingya are effectively stateless. They have limited access to education or adequate health care and cannot move around freely. They have been attacked by the military and chased from their homes and land by extremist Buddhist mobs in a country that regards them as illegal settlers.
Longstanding tension between the Rohingya Muslims and ethnic Rakhine Buddhists erupted in bloody rioting in 2012 that killed nearly 200 people and displaced 140,000 – most of them into crowded camps just outside Sittwe, the capital of Rakhine state, where they live under abysmal, apartheid-like conditions, with little or no opportunities for work.
The latest violence in Myanmar's northwestern Rakhine state began on 25 August, when a Rohingya insurgent group wielding sticks, knives and crude bombs carried out coordinated attacks on more than 25 Myanmar police posts and an army base. An Islamist insurgent group, the Arakan Rohingya Salvation Army, or ARSA, took responsibility for the attacks, saying they were in defence of Rohingya communities.
The Arakan Rohingya Salvation Army was formed last year by Rohingya exiles living in Saudi Arabia, according to the International Crisis Group. It is led by Attullah Abu Amar Jununi, a Pakistani-born Rohingya who grew up in Mecca, and a committee of about 20 Rohingya emigres. ICG says there are indications Jununi and others received militant training in Pakistan and possibly Afghanistan. Analysts blame Myanmar's government for the conditions that led to the group's creation. The lack of a political solution to their plight, particularly after the anti-Muslim violence in 2012, helped sow the seeds for armed rebellion.
Human rights groups and advocates for the Rohingya say the army retaliated by burning down villages and shooting civilians. The government blames Rohingya insurgents for the violence, including the arson. Myanmar says its army is conducting clearance operations against "extremist terrorists" and that security forces have been told to protect civilians, but Rohingya arriving in Bangladesh say a campaign is under way to force them out.