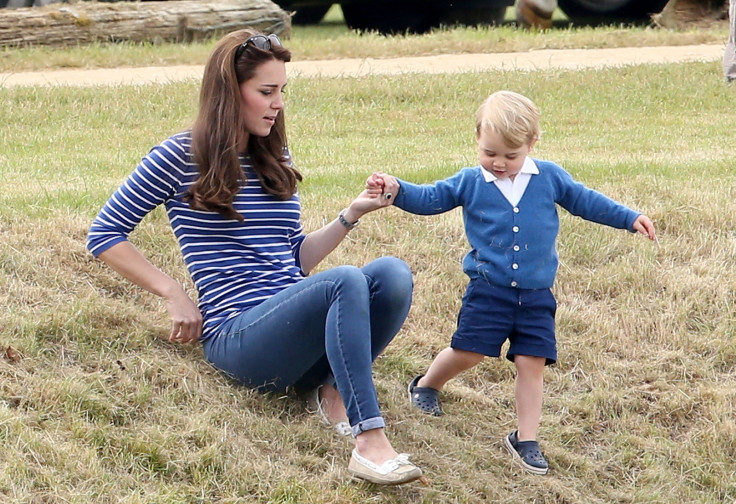 Prince George is reportedly a big fan of planes, trains and automobiles and made quite the show with his red toy airplane during a recent stop near his mother's home village. The royal toddler was with his maternal grandmother, Carole Middleton, at a local cafe when he was seen "flying" his favourite toy while making engine noises.
"He was running around the tables flying his little red airplane going 'brrrrr' to all the people having a cup of tea," a cafe customer told PEOPLE Magazine. "It's not every day that the future heir to the throne pops into the local cafe for a bit of cake!"
The tiny prince also got to see his paternal great-grandmother Queen Elizabeth on 16 December during the annual Christmas lunch at Buckingham Palace. Two-year-old George arrived with his mother, the Duchess of Cambridge, and his uncle, Prince Harry, for the pre-Christmas fun. His father, Prince William, was notably absent but he revealed earlier in the week that the boy is looking forward to Christmas gifts.
"I think George will be extremely bouncy this year because he's suddenly worked out what Christmas is all about," William said during an interview with Big Issue magazine. "So that will be two children, one who suddenly appreciates Christmas, which could be quite challenging. But I'm looking forward to it." He continued, "George will be bouncing around like a rabbit ... If I get any sleep on Christmas Eve it will be good."
George will be celebrating his first Christmas as an older brother, with baby sister Princess Charlotte nearing seven months of age. The two may be lucky enough to see Santa Claus as well this year. PEOPLE Magazine noted that William and Kate took George to see Santa at a holiday celebration in Thursford last year.