Prince Harry gets emotional as wounded US Marine gives him dog tag in honour of fallen US serviceman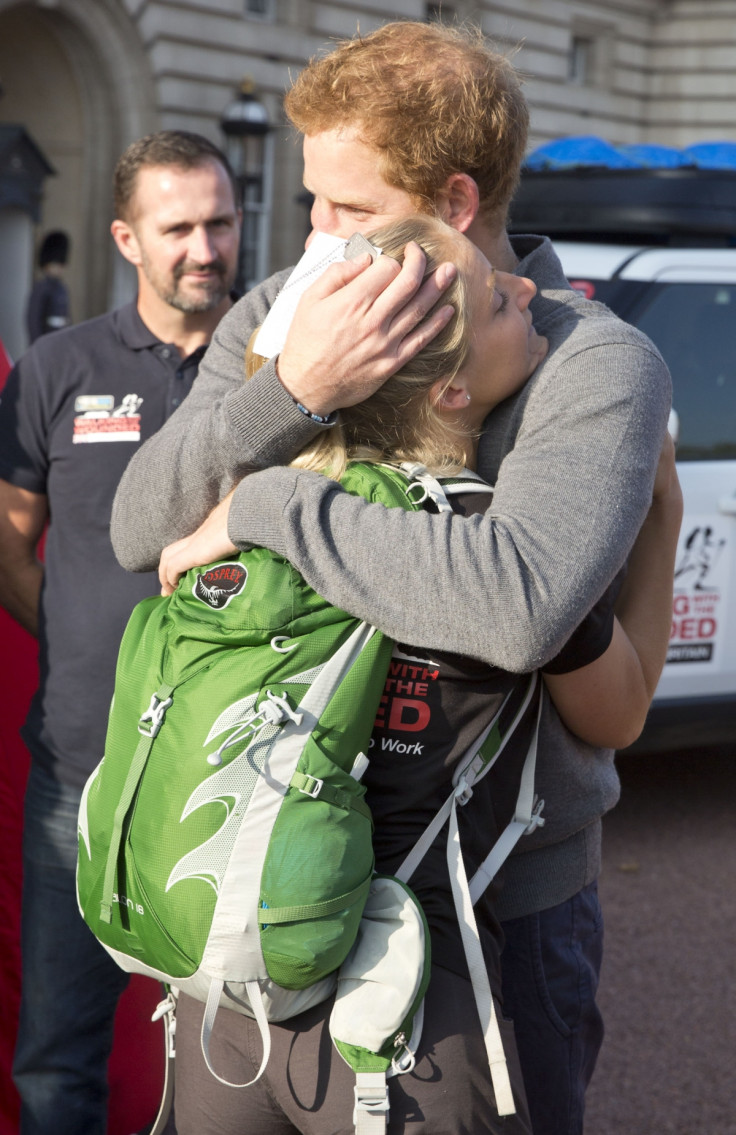 Prince Harry meets with members of the Walking With The Wounded team in the forecourt of Buckingham Palace after their latest endeavour, the Walk Of Britain on November 1, 2015 in London, England. Six members of the Walk of Britain team concluded their 1000-mile trek, which began on 22 August in Scotland and continued through the length and breadth of the country to London.
Heathcliff O'Malley /WPA Pool / Getty Images
Prince Harry became quite emotional after receiving a sentimental memento from wounded US Marine Kirstie Ennis at Buckingham Palace on 1 November at the end of the Walk of Britain. The 24-year-old American who was injured in a 2012 helicopter crash in Afghanistan gave the former British Army captain a dog tag to honour fallen US serviceman Corporal Baune.
Ennis, who was originally scheduled to have her left leg amputated over the summer but postponed the operation to take part in the UK charity walk, gave the 31-year-old prince the treasured dog tag after the 1,000-mile journey throughout the UK. According to People Magazine, Ennis left 24 other dog tags around the UK during the walk she took with fellow US Marine Andrew Bement and four former British servicemen.
"No I can't, I can't accept this," an emotional Harry told Ennis. A tearful Ennis reportedly replied: "Please, you know what this means to me, I want you to." The two then embraced, the magazine reported. The dog tag honoured Baune, a Minnesotan who died in 2012 after his unit was hit by the blast of an IED while on patrol in Helmand Province.
The wounded Marine told reporters, that Baune "passed away just 10 days before my helicopter went down and I was injured and the two guys who got blown up with him, Brad and Chris, and are missing their legs now have been part of my own support network in dealing with my own injuries ...They were my rocks for a long time, we grew together in hospital. His wife, Colleen, is absolutely amazing. He was just 21."
Ennis added: "I look at situations like that, he never came home, he had a wife and a family but he never came home. The six of us here today did come home, we are actually the lucky ones. The least we can do is share their legacy and honour their memory." She said that the prince was reluctant to accept the dog tag at first because he knew how much it meant to her. "He has helped me lay a couple of them and was hesitant to take them and he knows how much it means to me. I told him he had to."
Since ending his own service in the Armed Forces after 10 years, the red-headed royal has taken up several veterans-oriented causes. On 28 October, Harry visited the White House to promote his upcoming Invictus Games, which will be held in Orlando, Florida in May.
"In February 2008, at the end of my first tour in Afghanistan, I traveled home on an aircraft carrying three seriously injured British soldiers and the coffin of a Danish soldier," Harry told reporters at the White House during his visit, Us Magazine reported. "From that moment, I was committed to doing all I could to ensure that those men and women, who had sacrificed so much for their countries, would receive the recognition and support they deserved."
© Copyright IBTimes 2023. All rights reserved.