Prince Harry honoured the bomb disposal experts killed in action, at a service marking the 75th anniversary of armed forces' explosive ordnance disposal (EOD) units today. (22 October) The event paid tribute to all service men who worked as bomb disposal experts over the decades and around the world, from the soldiers who disarmed the Luftwaffe bombs in the Blitz to those who served in Northern Ireland and those who have recently returned from active duty in Afghanistan.
During the moving service at St Paul's Cathedral in London, serving and retired members of the EOD community offered their moving accounts of the conflicts and the vital part played by EOD units. Ian Kirkpatrick, the father of Corporal Jamie Kirkpatrick, who was killed in Afghanistan, gave an emotional address in which he told the congregation how he and his family have struggled to cope following their loss.
"It is extremely difficult to put into words what Jamie's loss has meant to us, his family and his many friends," he explained. "We recall many family celebrations and events that would, under normal circumstances, be a source of happiness, but which are now inevitably a source of sadness too. "We continue to reflect on all the ongoing events that he is now not around to witness and therefore seem somehow incomplete."
In a personally poignant moment for Prince Harry, the congregation of 1,500 service personnel and families were played a series of BBC news headlines about bombings that included the killing of Lord Louis Mountbatten, Prince Philip's uncle, who was killed by the IRA in 1979.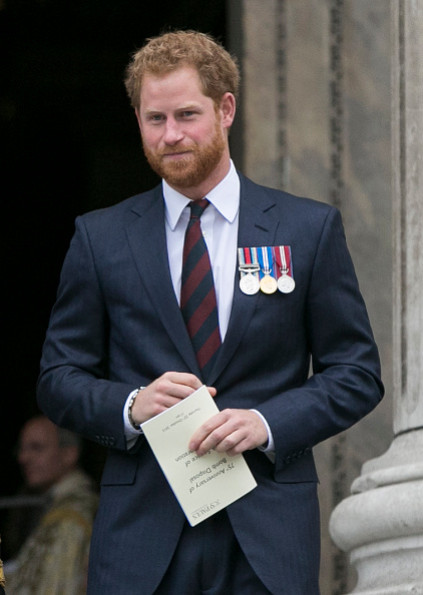 The 31-year-old royal, who served in the British Army in Afghanistan, later stopped to chat with two engineers - Sapper Clive Smith and Sapper Jack Cummings - who lost their legs in the conflict. Smith told Mail Online that he and Harry discussed the Prince's Invictus Games for injured servicemen. "He is always very approachable and interested in what you have to say," Smith said.
Commenting on the service he said: "It was quite emotional. It brings back memories of events you would rather forget but it was a very good service." Royal Engineers bomb disposal unit was formed in 1940 and played an important role in the Second World War, dealing with tens of thousands of unexploded bombs in the UK and overseas. Since then, bomb disposal has expanded from the Royal Engineers to function across the armed forces.