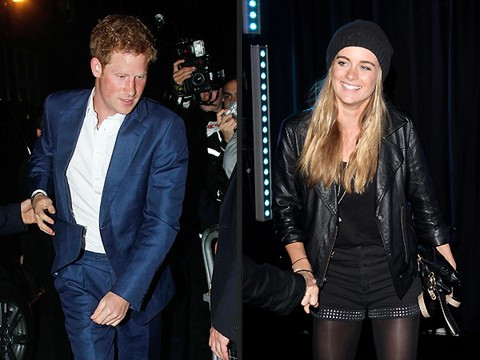 Looks like things are getting serious between Prince Harry and his girlfriend Cressida Bonas. If reports are to be believed, even though Prince Charles is not entirely happy with the match, it doesn't stop Prince Harry from taking his relationship to the next level.
According to rumours, 24-year-old Bonas, who has become quite comfortable at her boyfriend's palatial home, has been given security clearance to come and go as she pleases. The young Prince has made sure that it is convenient for her to spend much of her time there, reports Enstars.
One insider revealed to British Magazine Grazia: "Cressida has been staying with Harry pretty much every night for the last few weeks. So Harry felt it was sensible that she got the security clearance to come and go as she pleases, instead of always having to enter with him. She's now on first name terms with all the security guards, and uses all three entrances to the palace."
This is reportedly part of Prince Harry's plan to get her more comfortable with the idea of being a part of the royal family.
The new development puts paid to rumours of the couple's break-up. Reports indicating that the two have separated started circulating after they spent the holiday season apart.
The source added: "Cressida had a wobble just after Christmas. The speculation about whether they would get married had become too much and she declined an invitation to Sandringham to join the royal family on a shoot."
Bonas apparently chose to spend her holidays on Necker Island with her half-sister Isabella and brother-in-law Sam Branson. According to the insider, she just needed some time for herself.
"Cressy just needed breathing space. Harry has been brilliant and understands completely. The fact that she has now been given free access to the palace is all part of his plan to ease her into royal life and prove she can still have a normal life as his girlfriend."
"She hasn't fully moved in yet, but she stays most nights," the source added.