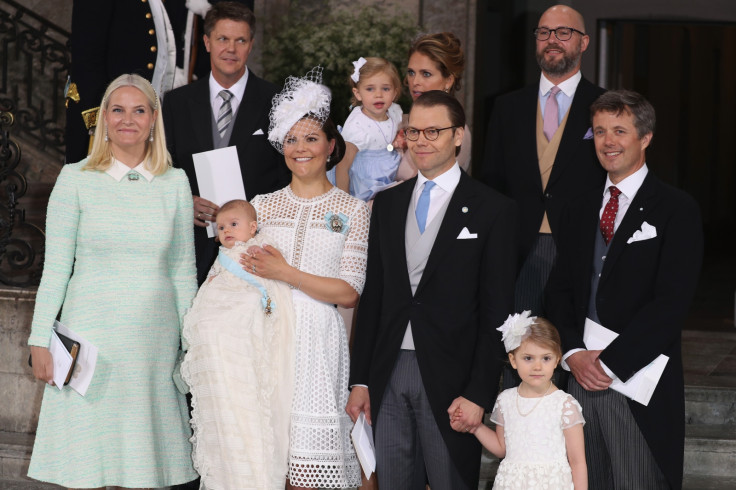 Prince Oscar of Sweden was christened in the Royal Chapel in Stockholm on 27 May and it was nothing short of a regal affair. Crown Princess Victoria carried her newborn baby boy alongside her husband Prince Daniel and their daughter Princess Estelle, 4, for the beautiful ceremony.
The prince, whose full name is Oscar Carl Olaf, was the star of the show in the flowing traditional christening gown that his sister Estelle, his mother and other members of his family have worn before him. His 38-year-old mother wore an intricately detailed white broderie anglaise dress by British fashion brand, Self Portrait, accessorising with a white netted fascinator. Her blue ribbon brooch, which she received as a gift from TRH Princess Lillian and Prince Bertil, took pride of place on her chest.
Princess Estelle showed a strong resemblance to both of her parents in an elegant white dress and a mini fascinator just like her mother's, whilst Prince Daniel looked dapper in a traditional morning suit and was seen smiling from ear to ear throughout the christening.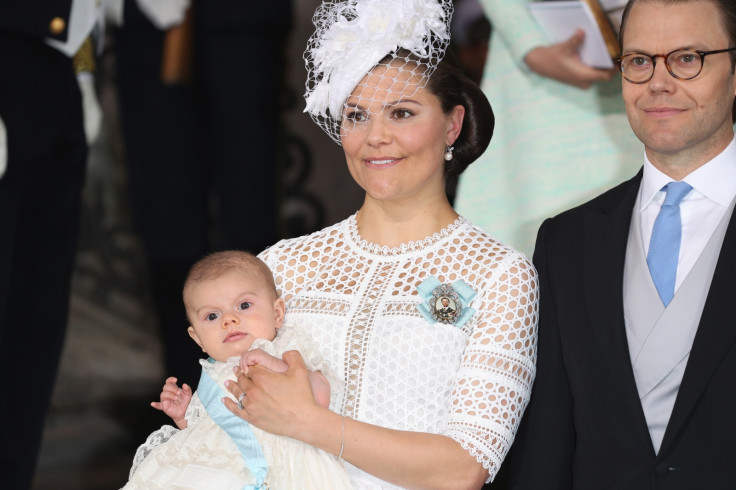 Nothing could steal the attention away from the adorable Prince Oscar, who appeared to be well-behaved throughout what could have been an intimidating experience. He grunted when water was poured onto his head in the chapel that was packed with Scandinavian royals and guests, and looked wide-eyed and intrigued by the crowd and cameras waiting for his emergence outside before a 21-gun salute rang out.
The ceremony was officiated by Archbishop Antje Jackelén, and the young prince fell into a slumber as the proceedings unravelled. He was baptised with special water from a spring on the island of Öland over a font from the early 18th century.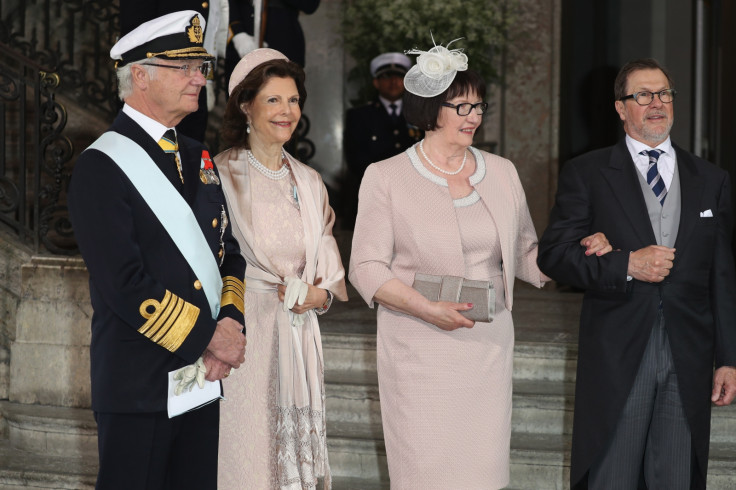 Prince Oscar is third in line to the throne after his mother and sister, since Sweden altered its constitution in 1980 so that the eldest heir, regardless of gender, could inherit the throne. Carl XVI Gustaf, who is Victoria's father, has been king since 1973. The King and his wife, Queen Silvia, looked like proud grandparents upon their arrival at the royal palace's chapel.
Other guests in attendance included Victoria's younger sister Princess Madeleine and her husband Chris O'Neill with their two children Princess Leonore, 2, and baby Prince Nicolas, who was christened in October 2015. Prince Carl Philip and his wife Princess Sofia completed the royal family, but their baby son Prince Alexander was not in attendance.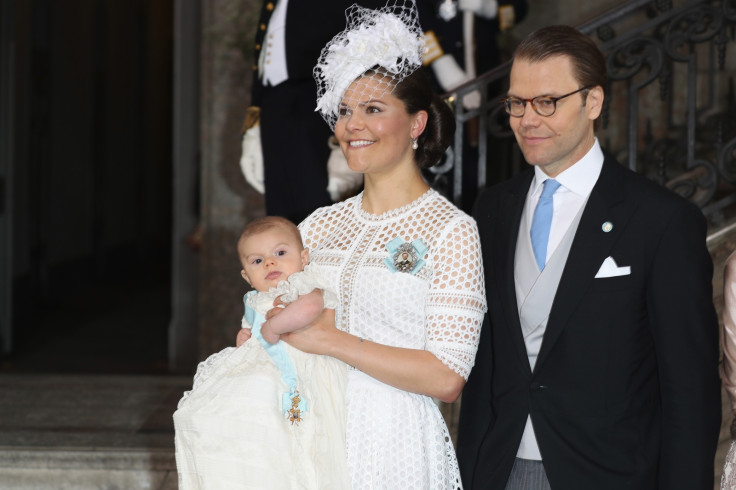 Yesterday, Prince Oscar's godparents were announced as Princess Madeleine, along with Crown Princess Mette-Marit of Norway. His godfather is Crown Prince Frederik of Denmark, who has four children with Crown Princess Mary, and all attended their new godson's christening.
Oscar was born on 2 March and weighed just over 8lb at the Karolinska University Hospital in Stockholm, and his father Prince Daniel cried tears of joy as he announced his birth to the press, stating that they didn't know the sex of their son until he was born.
He said: "Everyone is obviously very happy," reports Expressen. "I haven't had time to feel yet how it feels to be a father of two, but it obviously feels good. Estelle is of course really enthusiastic and happy about being a big sister."