They are a motley gathering made up of normal folk, compulsive obsessives, publicity seekers, conspiracy theorists, even an octogenarian code-breaker from World War II, all united in a common purpose: To keep the memory of late Diana, Princess of Wales alive. They see themselves as the self-appointed custodians of her legacy. Fighting for her rights, correcting every percieved slight, rewriting every bit of misinformation. But even the staunchest in this group of Diana loyalists admit this can't go on forever.
With the 16th anniversary of her death in a Paris underpass just passed, the number of bouquet, posters, mementoes, dolls, candles, press cuttings and cards dwindles with each passing year. Even though the gates of Kensington Palace have once more been transformed into a giant pinboard, festooned with all shades of opinion and invective, there is less room to tack such items to since the facade was scaled back and redesigned in a recent refurbishment.
The band of loyal fans who make the annual pilgrimage to Kensington Palace to honour her memory at every anniversary seem to have accepted the inevitable and have reasoned they can't keep this public display of loyalty going forever. Vic Fennel from Brighton, husband of the founder of the Diana Circle - a group of Diana fans who met outside the palace to mourn her death and then banded together to celebrate her memory - says ruefully: "As we get older, it gets harder."
Last year they managed to stage a memorial service in front of the palace gates, the scene of unprecedented national deluge of sorrow, soul-searching and recriminations after the princess' death in 1997. Fr Robert Chavner, vicar of St Nicholas Church who met the late princess twice, came up from Brighton to administer prayers.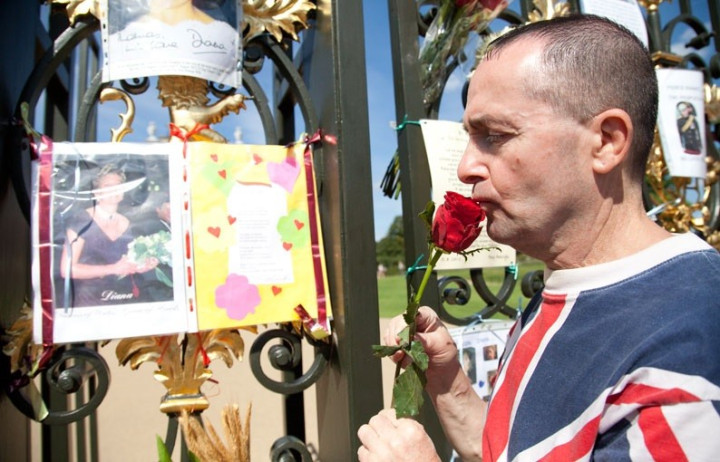 But they are preparing to wind things down at Diana's final resting place in Althorp where the cash-tills have been ringing since her brother, Charles, the ninth Earl Spencer created an exhibit of her life, Diana, A Celebration. Every summer Americans and hardcore Diana fans have made the journey in their thousands to the shrine, an island in the Round Oval lake in the 15,000-acre grounds of her ancestral home which contains thousands of bound volumes of condolence and personal ephemera - toys, couture gowns, handwritten notes and school textbooks - belonging to the princess.
Her brother announced that the Diana temple would shut in August 2014 after an agreement that the princess's possessions would pass on to her children when Prince Harry reached his 30th birthday in September of that year.
Mary Radcliffe, 87, a former code-breaker in World War II, is a sprightly lady who has certainly not been deterred by her advancing years. She declares proudly that she has made the pilgrimage to London from her Swindon home for every one of Diana's memorial anniversaries for the past 15 years and says it really is time for the state to honour Diana.
"She has got to be restored to her royal place as Her Highness," she says. "A statue will be befitting of her memory." And she is confident that a King William will do exactly that. "Her love had such strength. They shouldn't keep putting it off."
Margaret Fennel has made the journey from Brighton dressed all in black and carries a walking stick. She is credited with founding the Diana Circle, which started life with four members. Fennel says it started with their dislike of Prince Charles' women.
"We don't want him," she says of the first in line to the throne. "Charles and his lady friend (whom she calls 'Cruella') should give up the throne and let William be king."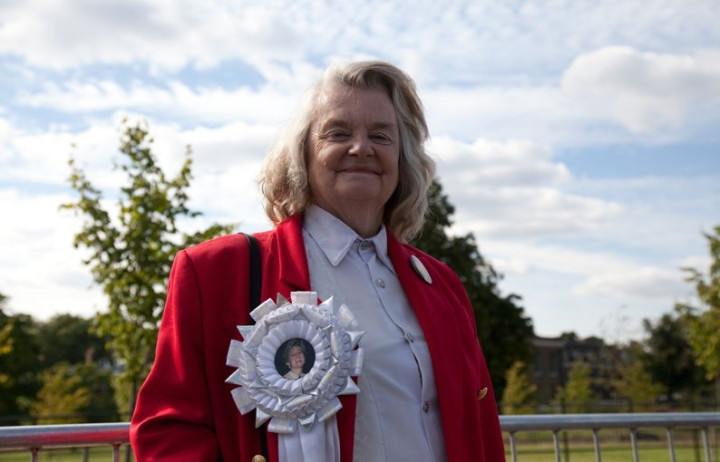 She says of the annual pilgrimage to the gates of Kensington Palace: "This was her home." She supports the erection of a statue in her honour. "She's not been forgotten, she still arouses a lot of curiosity. She'd have been a great ambassador."
Margaret Tyler, 68, is popularly known as Britain's "loyalist royalist" because of her mind-boggling treasure trove of royal memorabilia. Her home is groaning with press cuttings, photo albums, clothing, tupperware, bedding, chinaware, dolls and mannequins. This avuncular woman with the insatiable appetite for all royal collectibles believes that 15 years is a long time for people to continue to bring poems, photographs and flowers and puts it down to the enduring legacy of Diana.
She does not consider her devotion to Diana unhealthy, "A lot of people stop me and say it's nice what you do," she says matter-of-factly. She worked for 20 years with children with Down's syndrome before retiring eight years ago to devote all her time to Diana. "I'm busy as ever," she says.
She met Diana six weeks before she died at a charity event held at Northwick Park Hospital in Harrow. When the princess saw her clad in her royal-inspired regalia, she threw her head back and said: "You've got it bad."
It was a compliment she will cherish forever.