Engineering students from the University of Toronto have developed a 3D bioprinter that can rapidly create artificial skin grafts from a patient's cells to help treat burn victims.
In severe burn injuries, both the epidermis (outer layer of the skin) and the dermis (inner layer) are severely damaged, and it usually takes at least two weeks for skin cells to be grown in a laboratory to be grafted on to a patient.
As both layers of skin are made from completely different cells that have different structures, it is very difficult for the body to regenerate itself and burn victims can die if their wounds cannot be closed quickly enough.
Add to that, until now, scientists have had a hard time trying to create artificial skin grafts using 3D printers, due to the complexity involved in printing several successive complex layers, each consisting of a different type of cells.
So instead of trying to replicate a real human skin graft, the PrintAlive Bioprinter creates a type of "living bandage" from hydrogel.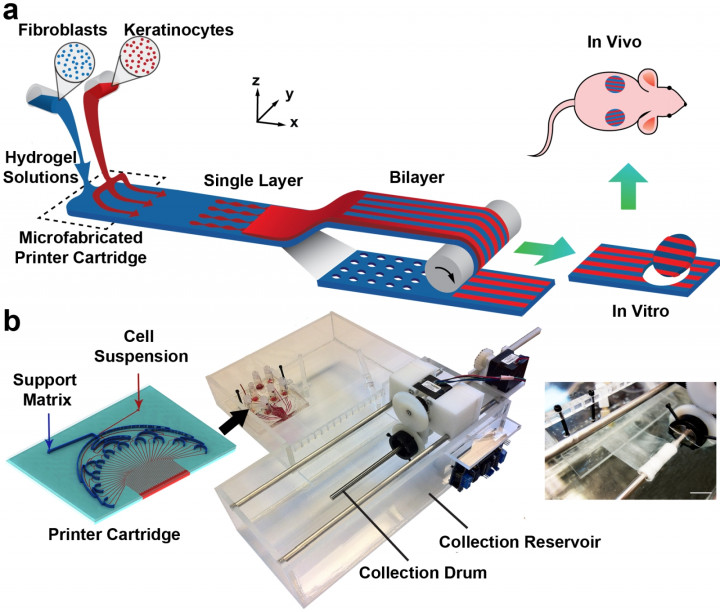 Students Arianna McAllister, Lian Leng and Boyang Zhang worked with Axel Guenther, an associate professor of mechanical and industrial engineering at the University of Toronto, and Sunnybrook Research Institute burn surgeon Dr Marc Jeschke to develop a special printer cartridge.
Using the patient's keratinocytes and fibroblast cells, the bioprinter creates a biopolymer in a 3D structure that is able to mimic the epidermal and dermal layers of the patient's skin, printing out in patterns like spots and stripes, which is faster and requires far less cells than printing out a continuous sheet of skin cells.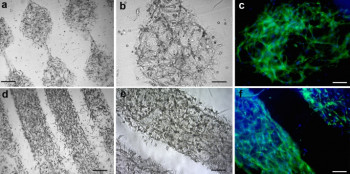 The printer cartridge contains two separate tiny channels filled with skin cells for both the epidermal and dermal layers of the skin, together with the liquid environment each type of cell requires.
As the liquid is squirted out of the printer, it solidifies into a gel, and both layers are printed out together, one on top of the other, creating a biodegradable wound dressing to treat the burns.
So far, the PrintAlive Bioprinter has been able to improve how wounds heal in mice with compromised immune systems and will next move on to skin grafts in pigs.
Human clinical trials with the technology are still about two to three years away but the students' invention is so impressive, it has won the top Canadian prize in the 2014 James Dyson Awards programme of $3,500 (£2,146).
The James Dyson Awards are given out to the best student industrial or product projects in 18 countries that are able to solve a problem, and winners of each country will then go on to compete internationally for a cash prize of $50,000.