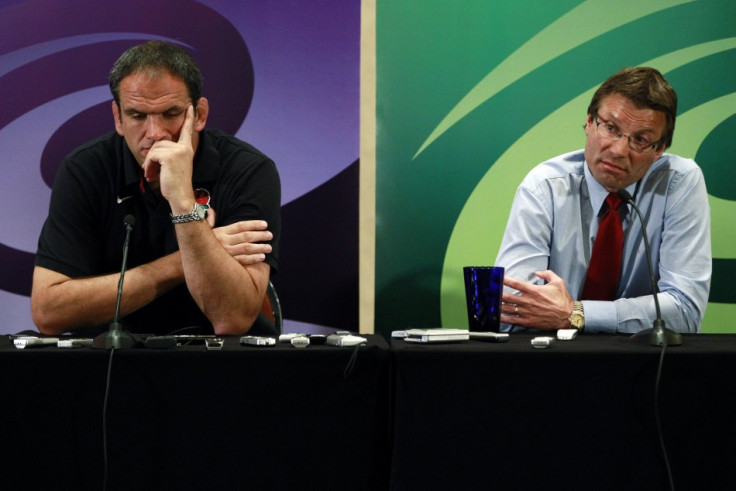 A confidential report, leaked to The Times, reveals that Rugby Football Union (RFU) officials accused some players of England's 30-man team of being more interested in "getting cash and caps than about getting better on the pitch". The report, drafted by Rob Andrew, the RFU's Director, also highlighted the failure of manager Martin Johnson's management style.
Evidence collated from the Rugby Players' Association (RPA) revealed how one teammate reacted to the 12-19 loss to France in the quarter-final.
"There's £35,000 just gone down the toilet," the player said.
The English team also held the RFU to ransom before their departure to New Zealand, threatening not to attend the departure dinner over a pay dispute.
"It is very disappointing that a senior group, led by Lewis Moody, disputed the level of payment for the World Cup squad, which led to meetings with RFU executives," Andrew said in the report.
"I believe this led to a further unsettling of the squad just before departure, which included a threat by the squad not to attend the World Cup send-off dinner at Twickenham. It suggested that some of the senior players were more focused on money than getting the rugby right," Andrew added.
During the World Cup, some senior players were accused of taking part in drinking games and mocking those at training. Johnson, who resigned last week, came in for criticism for failing to adequately discipline the players. Mike Tindall, for example, was involved in drinking games during a night out in Queenstown; he was later fined £25,000.
The report suggests levels of indiscipline and non-accountability and advocates a stricter regime and a clear alcohol policy. In a separate report, drawn by players, the entire coaching set-up except for scrum coach Graham Rowntree has been criticised.
The report said: "It is clear that the environment is vastly different to those at their clubs where players are trusted; assured of ongoing support and have good working relationships with coaches and team mates who share a vision in how they operate and in all aspects of their professional lives. This needs to be urgently addressed."
With confidential reports leaked to media, accusations and counter-accusations by players and the removal of Johnson, it might take a while to put the English team in order.