Live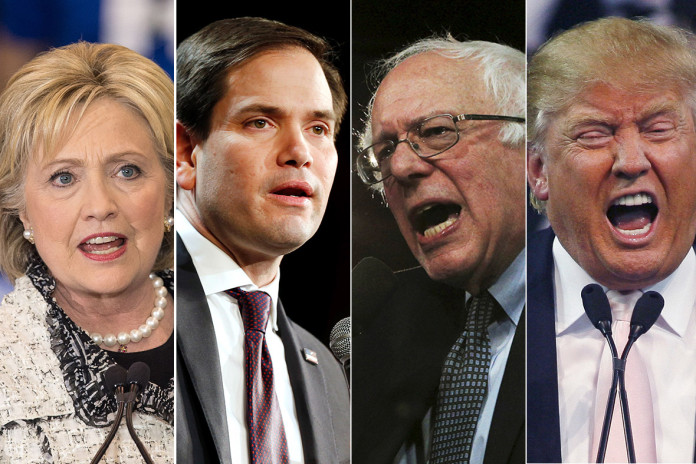 In the biggest test in the race to the White House so far for both Democrat and Republican candidates, Democrat Hillary Clinton and Republican Donald Trump both won the most states.
They both got Alabama, Georgia, Tennessee and Virginia while Ted Cruz took Texas and Oklahoma. Democrat Bernie Sanders won in his home state of Vermont as well as Oklahoma, Minnesota and Colorado while Republican Marco Rubio won Minnesota.

Up for grabs were 595 Republican delegates, nearly 50% of the number required to secure the nomination. Republicans need 1,237 delegates to win the party's nomination.

There were 865 Democrat delegates available during the vote and

2,383 are required to win the nomination.
Live Results (Democrats)

Alabama: Hillary Clinton ★
Arkansas: Hillary Clinton ★
Colorado: Bernie Sanders ★
Georgia: Hillary Clinton ★
Massachusetts: Hillary Clinton ★
Minnesota: Bernie Sanders ★
Oklahoma:Bernie Sanders ★
Tennessee: Hillary Clinton ★
Texas: Hillary Clinton ★
Vermont: Bernie Sanders ★
Virginia: Hillary Clinton ★
American Samoa: Hillary Clinton ★
Live Results (Republicans)
Alabama: Donald Trump ★
Arkansas: Donald Trump ★
Colorado:
Georgia: Donald Trump ★
Massachusetts: Donald Trump ★
Minnesota: Marco Rubio ★
Oklahoma: Ted Cruz ★
Tennessee: Donald Trump ★
Texas: Ted Cruz ★
Vermont: Donald Trump ★
Virginia: Donald Trump ★
★ Winner called by The Associated Press