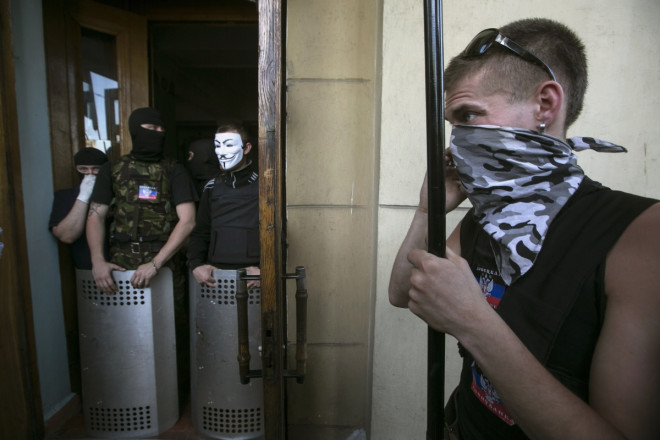 A large group of protesters has seized the Donetsk office of the regional state broadcasting company, claiming they did so to give pro-Russian demonstrators a "voice". The protesters are believed to have descended on the TV station after holding a rally in which they demanded a referendum on whether to join Russia, at which a rally leader complained protesters weren't being given air-time.
Footage circulating on YouTube appears to show a large mob shaking the gates of the TV station, which eventually give way. They then advance up the main steps and appear to speak with law enforcement officers before entering the building and planting the Donetsk flag. As with many recent occupations in the east of the country some of those present are wearing camouflage uniform and black balaclavas, carrying baseball bats.
One of the leaders of the "People's Republic of Donetsk" said he hoped the pro-Russians might be able to start broadcasting their own programmes. In the meantime, it is reported they will broadcast Russia 24.
Pro-Russians have attempted to seize regional TV and radio stations before. On 7 April demonstrators attempted to capture the regional state broadcasting company but failed after being turned away by guards. On Saturday 26 April the Ukrainian Security Service (SBU) building in Horlivka was seized, along with three SBU officers. President Putin's mouthpiece Russia Today claimed the men were "members of Ukraine's special anti-terrorist unit Alpha."
Pro-Russians in the east of Ukraine want to break away from Kiev and start their own republic, albeit one with strong ties to Russia. At the same rally the "governor" of Donetsk, Denis Pushylin, said:
"We'll get sovereignty and with it we can decide to on federalism with any country or not."
However the US believes the pro-Russian protests are orchestrated from the Kremlin and on Friday John Kerry issued another warning to President Putin:
"I will say it again. The window to change course is closing. President Putin and Russia face a choice. If Russia chooses the path of de-escalation, the international community – all of us – will welcome it. If Russia does not, the world will make sure that the cost for Russia will only grow. And as President Obama reiterated earlier today, we are ready to act."