If Nick Clegg were hoping that a joint statement by the Liberal Democrats at the centre of the Prophet Mohammed cartoon row would defuse the situation, then he is going to be disappointed.
IBTimes UK has learned that Mohammed Shafiq – who led the campaign for candidate Maajid Nawaz to be deselected over a tweet about the cartoon - is to take part in a meeting with members of the Lib Dem leadership about the controversy on Wednesday.
Critics of Nawaz are expected to insist again that he should not be allowed to stand for the party in Hampstead and Fulham at the 2015 general election. The row ignited when Nawaz tweeted a link to a cartoon of the Islamic prophet Mohammed earlier this month. Shafiq and others claimed the cartoon offended Islam.
The renewed call for Nawaz to be dropped came just hours after he and Shafiq issued a joint statement designed to foster unity. Death threats against Nawaz had sparked a police investigation.
But developments on Tuesday afternoon created a fresh impassé with the Lib Dems still appearing divided.
The latest fallout in the row followed a column by Nawaz in the Guardian about the episode, in which he blasted Muslims "who have hijacked it [Islam] just because they shout the loudest".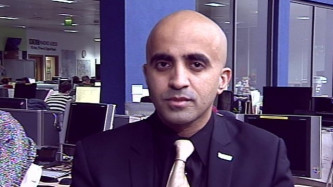 "Other Muslims are free to be offended and the rest of the country is free to ignore them," he said.
It was not known at the time of publication whether party leader Nick Clegg would be at the meeting between the anti-Nawaz campaign and the senior members.
Telling IBTimes UK of the meeting, Shafiq said: "We were hoping the joint statement would calm the situation down, but in light of Maajid Nawaz's column in the Guardian and elsewhere we believe he is provoking Muslims and we want to give our reaction.
"We've never called for his freedom of speech to be curtailed. What we said is that Liberal Democrat candidates should behave in a certain way and he's brought the party in to disrepute by doing what he did.
"I was hoping the statement would put it to rest but now Nawaz obviously does not want to close the issue down so we continue. The Muslim community has a right to have their views known and our view is Nawaz is responsible by tweeting this and people should be directing their anger at him."