Protesters have stormed and ransacked the Muslim Brotherhood headquarters in the Egyptian capital of Cairo a day after a nationwide protest against president Mohamed Mursi gathered up to 14 million people in the country.
Security forces rushed to the building following a large explosion, according to reports. Footage showed protesters storming the six-story building in an eastern Cairo district, smashing windows and smoke billowing out of the building. One protesters was seen removing the Brotherhood sign from the bulding.
The opposition movement Tamarud (Rebel), which organised the mass protests, issued a statement on Monday morning giving Morsi until Tuesday afternoon to resign.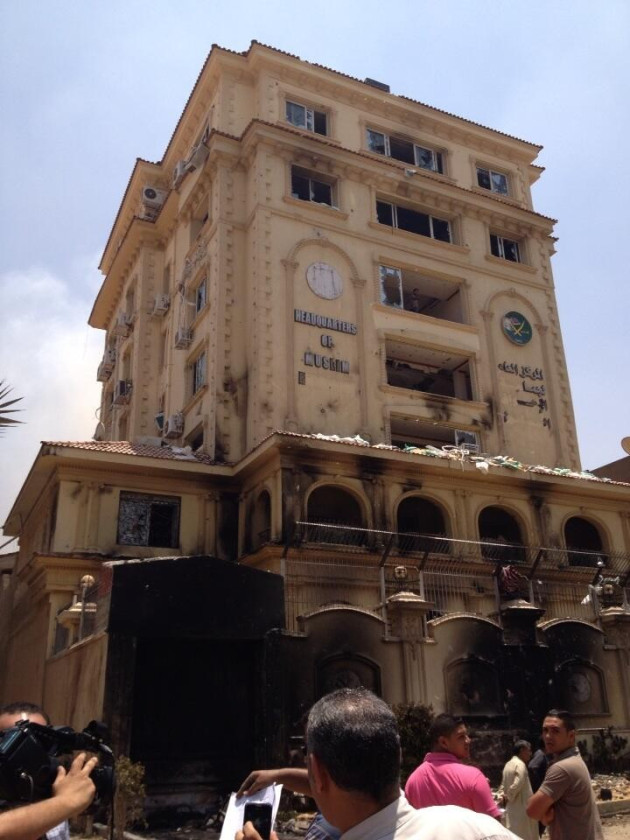 The group said it had gathered more than 22 million signatures in support and called on police, army and judiciary to side with the "people's will clearly displayed in the different squares in Egypt on Sunday". Otherwise, it warned, a campaign of civil disobedience would begin.
The Tamrud refused any middle ground or any alternative to the "peaceful conclusion of the Brotherhood's rule, represented in President Morsi".
The demonstrations in Tahrir Square were the biggest since the 2011 revolution. Up to 500,000 protesters flocked to the square calling for Morsi's removal and then headed to Itahadiya, the presidential palace.
Across the country, seven people were killed and more than 600 wounded in sporadic clashes between Morsi's supporters and opponents.
In Tahrir Square the mood was largely festive with protesters waving flags, blowing whistles, and chanting "By hook or by crook, we will bring Morsi down", while fireworks went off overhead. A military source told Reuters that as many as 14 million people in the country of 84 million took part in the demonstrations.
A spokesman for Morsi said that the president was aware that he had committed mistakes and was in the process of fixing them.