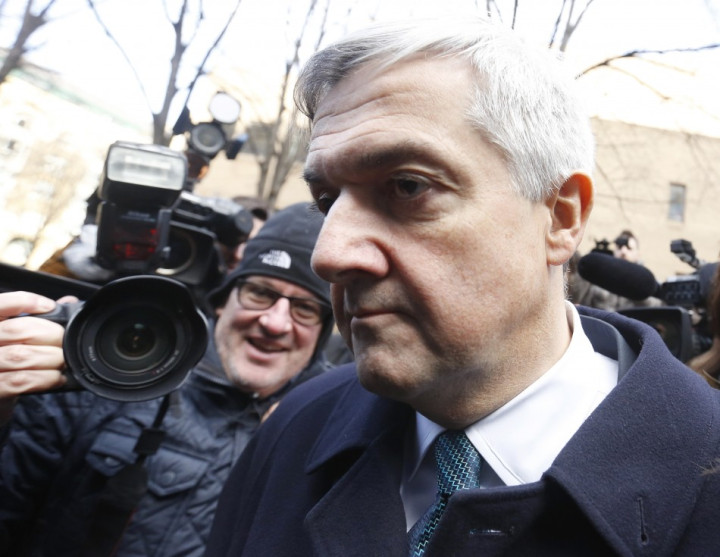 Lying politician Chris Huhne so disgusted his own son that the boy tried to jump out of a moving car to escape, it has been claimed.
Former wife Vicky Pryce revealed the episode in court as she faced a second trial on charges of perverting the course of justice.
Economist Pryce said that one of their sons suffered an "allergic reaction" to Huhne after his cheating hurt the family.
Standing in the dock again for allegedly lying over a driving offence in 2003, Pryce said the sound of Huhne's voice on the radio caused the child so much distress that he tried to jump out of the vehicle while it was moving.
The incident was the latest detail of the family's domestic troubles to emerge in open court. At Pryce's previous trial, a series of angry text messages between Huhne and his son were read out.
The disgraced former energy secretary was branded a "fat b*****d" by the boy, who was furious that he had left Pryce for PR guru Carina Trimingham. During the text exchanges, Huhne was threatened with exposure over the motoring offence points switch.
Huhne quit as an MP after admitting to perverting the course of justice on the first day of his trial.
Pryce denied the same charge, using the rare defence of marital coercion - meaning her husband made her do it. Her trial at Southwark Crown Court collapsed amid controversial scenes.
At the retrial it was revealed that Pryce may have been helped in her efforts to take revenge on Huhne by a high-profile judge.
The court was told that part-time judge Constance Briscoe "may have lied" about her involvement in the case.
She was arrested after telling police that she was not involved in the story about the driving points switch reaching the police, despite emails revealing that she was in contact with the Mail on Sunday.
Prosecutor Andrew Edis QC said: "Ms Briscoe has provided statements to the police in this case but during the investigation it became apparent that she may have lied about her involvement with the press and that she denied having any contact with the Mail on Sunday or any other media organisation in relation to this story."