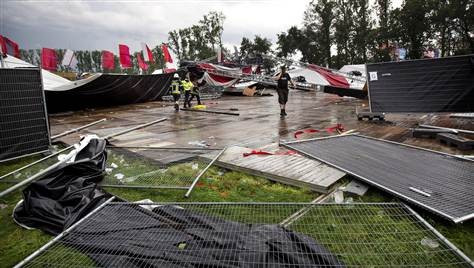 Organisers of Belgium's Pukkelpop festival, who booked headline acts including Eminem, Foo Fighters and the Ting Tings, have cancelled the rest of the event after five people were killed when a stage collapsed Thursday.
"We simply could not carry on," organiser Chokri Mahassine told the Hindustan Times.
The chateau-style stage in Hasselt, Belgium, was brought down during a huge storm. Staging collapsed, giant screens fell, tents were flattened and trees were uprooted in the space of minutes, the BBC reported.
It was initially thought that three people had been killed and more than 70 injured, but that number has now been adjusted to five.
"I think that the organisation of Pukkelpop rightly took the courageous decision to stop the festival," Mayor Hilde Claes told De Standaard newspaper.
Organisers have issued a statement, in which they say the festival is "in deep mourning" and that the events "were truly exceptional and could not have been predicted."
Belgian Prime Minister Yves Leterme has sent his condolences to the families of the victims.
About 60,000 people were believed to be at the event, one of Europe's largest outdoor festivals, when the storm hit.
The winds uprooted trees, which smashed into the rigging and stage.
Many festival-goers were inside tents that collapsed when the storm hit.
"The sky suddenly turned pitch black and we took shelter waiting for the rain. Then suddenly, there was a downpour. The wind blew violently," Catherine Blaise told Le Soir newspaper.
"There were hailstones bigger than a centimeter falling. Trees toppled over. It was unbelievable, the end of the world," she said.
A crisis centre has been set up in a gymnasium in Kiewit to help those who have been lightly injured or in shock, reports Hindustan Times.
The tragedy followed the deaths of five people during a storm at concert in Indiana.
See footage of the storms that caused five deaths at the Belgian Pukkelpop music festival here: