Russian President Vladimir Putin said Thursday (25 January) that modernised strategic bombers will boost Russia's military power.
Speaking on a visit to an aircraft-making plant in Kazan, Putin said the revamped version of the Soviet-designed Tu-160 bomber features new engines and avionics that would significantly enhance its capability.
The Russian leader attended the signing of a 160bn ruble (about $2.9bn) contract that will see the delivery of 10 such planes to the Russian air force.
He said the upgraded bomber is a "serious step in the development of high-tech industries and strengthening the nation's defense capabilities."
The last plane will be delivered to the Russian Air Force by 2027.
Russia is also planning to produce a modernised version of the Il-78 refueling tanker which can refuel the bombers in mid-air, allowing them to reach any point on the planet.
The four-engine supersonic bomber developed in the 1980s is the largest combat plane in the world.
During Russia's campaign in Syria, the military used the Tu-160s to launch long-range cruise missiles at militant targets.
17 years of increased military spending
Russia has steadily increased its military expenditure since Putin came to power. According to the Stockholm International Peace Research Institute, Russia spent $20.9bn (£14.7bn) - 3.6% of its GDP - on its armed forces in 2000, the year Putin was first elected President. In 2016, Russia spent $70.3bn (£49.3bn) on its military - 5.3% of its GDP.
Siemon Wezeman, a senior researcher at the Stockholm International Peace Research Institute, told IBTimes UK, "Russia has increased its military spending every year in real terms – taking into account inflation – in the years between 1999 and 2016. In percentage terms, the increase compared to 1998 has been among the very highest of all larger spenders. Only China has increased more, growing by 589% against 402% for Russia."
Despite this, the absolute increase in Russian military expenditure since 1999 (just over $56bn) is still some way from that of the biggest players, such as the US ($207bn) and China ($193bn).
Wezeman explained that a substantial share of Russian military spending has gone to new equipment and military R&D. "The main reason for the increase since 2008 was the poor performance of the outdated Russia equipment and force structure against Georgia [in the 2008 Russo-Georgian War]."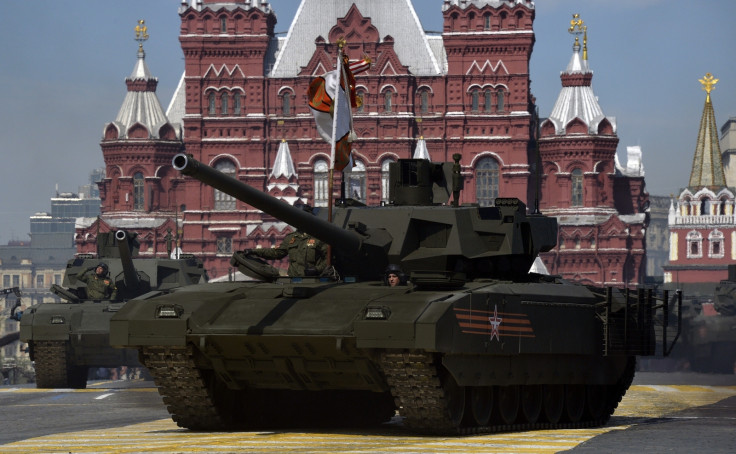 The Russian military's poor performance in this short, limited war against a far weaker opponent was a wake-up call for the Russian leadership, Wezeman said, "which suddenly realised that Russia would not be a superpower or even a major power, at least in conventional military power, if it did not invest in the military. Since then, spending on new equipment (in Russia called the 'State Defence Order') has accounted for 25% or more of total military spending, and military R&D for just under 10%."
As well the war in Georgia, under Putin Russia's military has been involved in conflicts in Ukraine and Syria. Significant domestic operations have also been carried out in Chechnya and Dagestan.
"Russia has, in recent years, announced many ambitious plans for more or less all kinds of new weaponry - from rifles to aircraft carriers - to be acquired in sometimes enormous amounts, for example 2,400 Armata tanks," Wezeman continued. "Considering the limited budget and limited potential to squeeze more out of its quite weak economy, many of those plans will be delayed, down-sized or just cancelled, leaving Russia as a major conventional power but not as a conventional superpower, which only the USA is, China will be and the combined EU could be."
Could we see a Russian Concorde?
Putin also suggested that the plant develop a supersonic passenger jet based on the Tu-160, saying that Russia's vast territory would warrant such a design.
The state-controlled United Aircraft Corp. said in a statement carried by Tass news agency that preliminary work has started on designing such a plane.
The Soviet-designed Tu-144 supersonic passenger jet that rivaled the British-French Concorde saw only a brief service with Aeroflot after Soviet officials decided it was too costly to operate. Concorde entered service in 1976 and operated for 27 years.