Julian Assange, the founder of WikiLeaks, is facing a multitude of serious health risks due to his years-long confinement in the Ecuadorian embassy in London, experts say.
Since being granted political asylum in 2012, Assange has lived without access to adequate medical facilities, a severe lack of sunlight and the uncertainty of prolonged detention.
His conditions, three doctors believe, have become both physically and mentally dangerous.
The situation infringes on the right to healthcare, concluded experts Sondra Crosby, Brock Chisholm and Sean Love after a recent 20-hour evaluation, the details of which were published in The Guardian Wednesday (24 January).
While the experts said most details were protected by patient confidentiality, they noted that the prolonged uncertainty of "indefinite detention" can result in a plethora of profound traumas.
"These can include severe anxiety, pathological levels of stress, dissociation, depression, suicidal thoughts, post-traumatic stress disorder and chronic pain," they wrote.
Speculation over Assange's health has surfaced frequently since his entering the embassy nearly six years ago. The UK government, which has threatened to arrest the anti-secrecy figurehead should he step outside, previously declined to facilitate a hospital visit for an MRI scan. In 2016, WikiLeaks released a document detailing his medical condition. It said that Assange's mental and physical health was "highly likely to deteriorate" over time.
"He experiences constant pain at rest, which is exacerbated by all movements of the shoulder joint," the 27-page report read. "It is likely that this is a chronic condition in which restriction of movement and pain are likely to worsen, without treatment."
Still, despite medical worries Assange has continued to make press appearances and WikiLeaks has continued to publish stolen documents of the rich and powerful.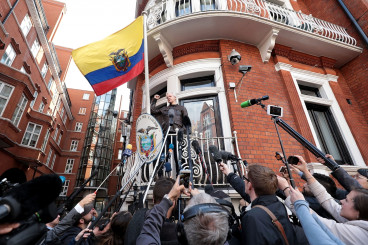 Amid rising rhetoric from the US government, he has been granted Ecuadorian citizenship. The three doctors in the latest assessment called for safe access to medical care.
They wrote: "Mr Assange is surrounded by credible personal threats from various governments and individuals.
"He is also unable to avail himself of his right to access medical institutions due to the threat of imminent arrest should he step outside the embassy, even for a medical emergency.
"This has taken a considerable toll. It is our professional opinion that Mr Assange's physical and psychological circumstances at the embassy are in violation of the spirit of the UN standard minimum rules for the treatment of prisoners."