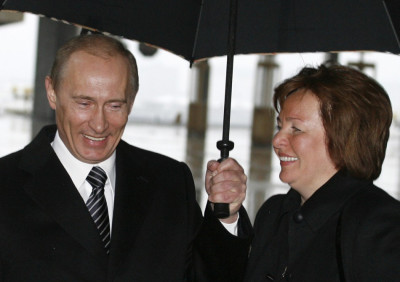 Vladimir Putin has become the first Russian head of state in recent history to divorce while in office.
Putin announced his marriage with wife Lyudmila Shkrebneva was over during an interview on national television.
Although divorce is common practice in modern Russia - some 700,000 couples dissolved their marriages in 2009 according to UNICEF - Russia's leaders traditionally keep their domestic lives well out of public view and scrutiny.
The Putins also stuck to the unofficial rulebook until Shkrebneva's rare appearances alongside her prominent husband triggered years of speculations over the health of their relationship. The charade and pretences were finally put to an end with the disclosure.
Just a couple of months short of their 30th wedding anniversary, Putin, 60, and Shkrebneva, 55, appeared together for the first time in more than 12 months at a ballet performance at the Kremlin Palace.
At the end of the show, they were approached by a cameraman from Russia's Rossiya 24 television;
Putin and his soon-to-be former wife briefly praised the artistes' performances - "Excellent. Great music, excellent production," Putin cooed - and then announced the couple were getting a 'civilised divorce'.
"It was our mutual decision; our marriage is over," Putin announced. "We practically don't see each other. Each of us has their own life."
Putin and Shkrebneva married in 1983, and have two daughters, Maria and Yekaterina.
"Vladimir Vladimirovich [Putin] is completely drowned in work," Shkrebneva concurred, adding she was 'very grateful' to him for his continued support.
The announcement came amid rumours Putin has been dating someone else for some years, former Olympic champion gymnast Alina Kabaeva, 30, who is now an MP for the Putin-backed United Russia party. The President has always denied the liaison.
Till death do us part?
"There was hardly any politics-savvy Russian in the country who could not have guessed that the first couple wasn't particularly intimate. Lyudmila Putina's long-time absence at political events was telling," journalist Mikhail Rostovsky wrote on Russian tabloid Moskovsky Komsomolets.
"Putin has broken a taboo by showing that he is a man like everyone else. Even the president is entitled to have a private life - and entitled to have failures in it, too," he observed.
To find a Russian divorcee leader, one must go back a very long way. Late president Boris Yeltsin remained close to his wife Naina Girina, whom he married in 1956, until his death in 2007. Naina also shied away from media attention throughout her husband's political career.
Similarly, incumbent prime minister Dmitry Medvedev has been married to his wife Svetlana Linnik for some 20 years while managing to avoid the media spotlight.
Also Perestroika leader Mikhail Gorbachev got married in his early 20s' to Raisa Titarenko, who seemed to enjoy appearing on the international stage. The couple remained together until Raisa's death from leukaemia in 1999.
Estranged first couples were less uncommon during the Soviet era, although none separated while the husband was busy running the communist apparatus.
Konstantin Chernenko, who led the Soviet Union for 13 months from 1984 until his death in March 1985, married twice, although the world only became acquainted with his second wife, Anna, at his funeral.
Stalin's successor Nikita Khrushchev also separated from his second wife, Marusia, shortly after marrying her in 1922. His first spouse had died three years earlier.
Joseph Stalin's marital affairs deserve a separate mention. The dictator's first wife, Kato Svanidze, died of typhus a year after marring the then-communist revolutionary in 1907.
Stalin remarried to Nadezhda Alliluyeva in 1919. After 13 years of marriage Nadezhda committed suicide shooting herself in the head reportedly after he berated her harshly at a dinner party. The death was officially represented as a tragic accident but many still believe Stalin actually had her killed.