This January, Bayern Munich jetted off to Qatar for a week of training in the sun at the state-of-the-art Aspire Academy sports centre, in the shadow of Doha's flagship Khalifa International stadium. Asked by reporters about Qatar's human rights record, club captain Philippe Lahm said, "The whole team are all occupied with the subject of what's going on in Qatar. We have not closed our eyes."
But Lahm and his team-mates could never have imagined the abuse endured by migrants who had worked in the gardens around them and in a nearby stadium slated to host a World Cup semi-final in 2022.
Last year, I spoke to gardeners who maintained the green spaces in the Aspire Zone sports complex and to construction workers who were building Khalifa Stadium. Sleeping eight to a room in filthy, cramped accommodation they struggled to survive, let alone pay off the debts they owe to recruiters or send money back home to families who depend on them. Some were not paid for months at a time.
Fifa cannot turn a blind eye to these abuses. Commissioning the Ruggie human rights review of its human rights policies is an important step. But it's not enough to publish a review. Fifa's human rights record will be judged on the concrete steps it takes now. This is an opportunity for its new head, Gianni Infantino, to demonstrate what kind of organisation he wants to lead: will it be one that respects human rights?
Some of football's biggest stars have come to Qatar for its facilities and hospitality, but the workers who built Khalifa Stadium said they felt their life there was a prison. European clubs appreciate the winter sun, but unlike migrant workers they do not bear the scorching heat through the hottest parts of the day. Workers have no choice. Many know that if they stop or take sick leave they won't get paid.
Fifa sowed the seeds for this abuse in 2010 when it gave Qatar the 2022 World Cup, paying little heed to the impact on migrant workers. In the five years since then, Fifa and Qatar have promised to make life better for the hundreds of thousands of migrant workers building the stadiums, hotels, roads and public transport needed to host the World Cup. Today's report is something it should have done years ago. Unless followed by immediate action, it will be too little, too late.
While Fifa stalls, Qatar has used the World Cup as a springboard to set itself up as a prestigious destination for the world football elite. Clubs such as Bayern, Everton and Paris Saint-Germain trained at the Aspire Zone this winter, highlighting how Qatar has become an elite hub for the game.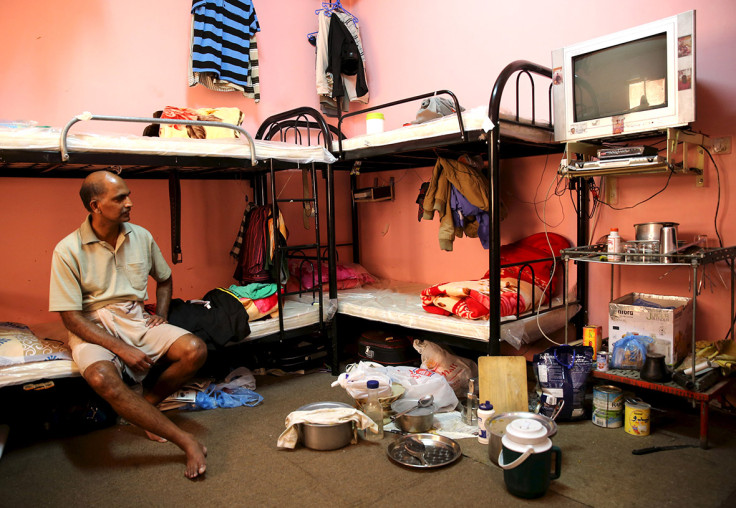 Fifa can no longer remain indifferent to human rights in the country. There have been many warnings about the risks of a World Cup built on abuse, but Fifa always failed to act. Now, the first stadium that will be completed for the tournament is already tainted by exploitation. Sport is supposed to spread hope and aspiration, but in Qatar football is abandoning migrant workers to despair and desperation.
World Cups are special moments in the life of every football fan, shared by millions across the world. But no fan wants to watch football in stadiums built on abuse. Certainly not a World Cup semi-final, which so often provides iconic moments. Every England fan remembers Gazza's tears in 1990. The tears of Brazilian fans were seen by 390 million people worldwide when they lost to Germany in 2014. But the 2022 semi-final risks being remembered for the tears of migrant workers.
This is a litmus test for the new Fifa leadership. If they continue to fail, football fans will see the result for themselves in 2022. The victims will be the staff in their hotel, in shops, in the fanzones. They will take their seats in the Khalifa stadium and watch their teams walk into a stadium built on abuse and suffering.
Nothing less than pushing Qatar to reform the laws that leave migrant workers at the mercy of their abusive employers will show that football's governing body has left behind the era where it put profits before people. Only then will they prove themselves fit to be the custodians of the world's favourite sport.
That is why every football fan should be asking FIFA and its sponsors to do far, far more to push for an end to the exploitation of migrant workers in Qatar.
Mustafa Qadri is a Gulf migrant rights researcher at Amnesty International. Follow him on Twitter @mustafa_qadri